Knallhart (Tough Enough)
(2006)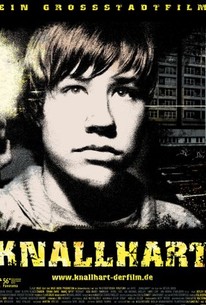 Knallhart (Tough Enough) Photos
Movie Info
As written and directed by Detlev Buck, the inner-city character drama Tough Enough opens on 15-year-old Michael Polischka (David Kross), who lives with his single, white trash mom, Miriam (Jenny Elvers-Elbertzhagen and her wealthy physician lover, Klaus (Jan Henrik Stahlberg) in an affluent German suburb. After Miriam and Klaus have a bitter quarrel, mother and son are thrown out onto their ear, and must move to Neukoelln, a gritty ghetto in the eastern section of Berlin rife with illegal Turkish immigrants. Michael experiences a brush or two with the law by falling in with a pack of juvenile delinquents, including Crille (Arnel Taci) and his brother Matze (Kai Michael Mueller) , who (on a darkly humorous note) collectively gain revenge on Klaus by breaking into his home and robbing him blind. Circumstances take a decidedly nastier turn, however, when Michael falls prey to the wheedling of thug Hamal (Erhan Emre) and agrees to go to work as a drug runner.
Critic Reviews for Knallhart (Tough Enough)
Audience Reviews for Knallhart (Tough Enough)
½
This German drama about a boy moving to a pretty bad part of Berlin with his mum is trying hard to give a realistic look at the current situation of poor parts of larger cities, where kids have little perspective or motivation and parents are not much of a good example either. The acting is excellent, newcomer David Kross even moved on to shoot with Kate Winslett. The story comes up with several gut wrenching and gloomy situations, most of which could easily happen, but doesn't entirely manage to avoid stereotypes (bullies, drugs, organized crime). Maybe because that's just how it is these days. Kudos to the movie for not being entirely pessimistic or depressing but realistic and dark enough to leave a knot in your stomach when the end credits roll. That's uncomfortable, realistic film making, no popcorn entertainment. Great soundtrack, too.
Knallhart (Tough Enough) Quotes
There are no approved quotes yet for this movie.