Flawless
(2008)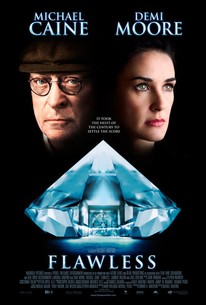 Movie Info
Michael Radford (Il Postino and The Merchant of Venice) directs screenwriter Edward Anderson's script about an aging janitor and an American executive who form an unlikely alliance in order to carry out an elaborate jewel heist. Set in 1960s-era London, the tense crime thriller stars Michael Caine as the scheming maintenance man who longs to relieve his employers at the London Diamond Corporation of their valuable inventory, and Demi Moore as the savvy executive who is completely perplexed by the wealthy diamond magnates. ~ Jason Buchanan, Rovi
News & Interviews for Flawless
Critic Reviews for Flawless
Audience Reviews for Flawless
In 1960's London two disgruntled employees for the world's main diamond retailer plan to rob it: a heist movie. The two characters, in an unusual and unlikely pairing, are Michael Caine and Demi Moore, from different societal stratums, and watching them find a way to work together, their chemistry is what makes this interesting film-making.
Kevin M. Williams
Super Reviewer
Demi Moore is never allowed to do an accent again. The script may account for some of the inconsistencies by remarking that she's a expatriated American, but such excuses can only go so far. The film is about disgruntled employees of a diamond company organizing a heist. There are a few moments when we're drawn in by the slickness of the plan, but there is little mystery beyond the logistics. We know Hobbs's motivations early on, and if this is where the film attempts to extract suspense, I didn't see it. Likewise, points about gender inequality and colonial pillaging seem tacked on. It is not as though this film leverages heist genre conventions in order to make a sociological point; rather, it is as though on the way to the set, the filmmakers realized that they should. Overall, though Michael Caine is always slick and fun to watch, the script fails to either pull itself together or keep us on the edge of our seat.
Jim Hunter
Super Reviewer
½
Not the best Michael Caine Film that?s out there but still its worth watching. About a robbery in 1969 of a Diamond Thief from the London Diamond Exchange. Demi Moore teams up with Michael Caine to pull off this heist. 3 1/2 stars.
Bruce Bruce
Super Reviewer
Flawless Quotes
There are no approved quotes yet for this movie.