The Visitor
(2008)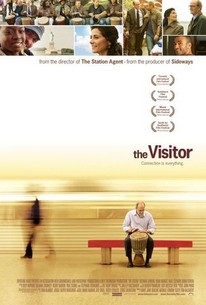 TOMATOMETER
AUDIENCE SCORE
Critic Consensus: The Visitor is a heartfelt, humanistic drama that deftly explores identity, immigration, and other major post-9/11 issues.
Movie Info
A lonesome widower and college economics professor finds his mundane existence suddenly shaken up when he befriends a pair of illegal immigrants, one of whom has recently been threatened with deportation by U.S. immigration authorities, in the sophomore feature from The Station Agent director Tom McCarthy. Years after losing his wife, 62-year-old Walter Vale (Richard Jenkins) has also lost his passion for writing and teaching. In an effort to fill the empty void that his life has become, Walter makes a half-hearted attempt to learn to play classical piano. Later, when Walter's college sends him to a conference in Manhattan, he is surprised to discover that a young couple has moved into his seldom-used apartment in the city. Tarek (Haaz Sleiman) and his Senegalese girlfriend Zainab (Danai Gurira) have fallen victims to an elaborate real-estate scam, and as a result they no longer have a place to call home. When Walter reluctantly allows the couple to remain in his apartment, talented musician Tarek insists on repaying his host's kindness by teaching him to play the African drum. Over the course of Walter's lessons, the ageing academic finds his spirits revitalized while gaining a newfound appreciation for New York jazz clubs and Central Park drum circles. Later, Tarek is arrested in the subway and threatened with deportation after police learn that he is an undocumented citizen. Suddenly, in his attempt to help his new friend, Walter's passion for life is unexpectedly awakened. When Tarek's radiant mother Mouna (Hiam Abbass) arrives in the city in search of her son, that passion turns to romance -- something that Walter had previously thought he would never experience again. ~ Jason Buchanan, Rovi
Critic Reviews for The Visitor
Audience Reviews for The Visitor
A movie I'm sure most people saw only after Richard Jenkins was nominated for the Best Actor Oscar, The Visitor is compelling and well-acted. It starts well, but it suffers in the end because of its change in focus: for a long part in the middle, it's barely about the main character anymore. And though this is kind of the point - he gets swept up in lives very different and much harder than his own - the depth of the early going thins out and the plot becomes much more mechanical, to the point that the final evolution of the protagonist doesn't hit at gut level the way the filmmaker clearly hopes it would. A good movie, but not a great one, notable mostly for Jenkins's performance... the Academy, it seems, would agree.
Daniel Perry
Super Reviewer
A lonely widower professor gets a new lease on lfie after a chance encounter with some illegal immigrants. Based on that set up alone, you could easily just cast this movie off as another case of minority characters acting as an angelic force whose purpose is to help a down and out white, as well as yet again a film where a white man comes to the aid of minorities in need. Why do that though? Especially when the way it's all handled (as is the case here) is done with care, intelligence, and an overhwelming sense of gentleness and sincerity (in good ways). The film does have typical elements to it, but it's well played, avoids being pandering (almost completely), and is aved by some terrific performances, especially that of Jenkins in a standout lead role. Yeah, the film is uneven and all over the place with what it is trying to do, but it's never boring, has a lot fo heart, and could have been done a whole lot worse. Give it a go.
Chris Weber
Super Reviewer
½
Now this is more like it! A slow, simple story that flows out organically and doesn't force anything. It starts out lightly but somehow manages to pull out a spectrum of emotions: laughter, heartbreak, peace, frustration. Richard Jenkins is truly a work of art. Instead of stealing the show for himself he reacts to the events and people that happen. The story isn't about him, and he doesn't make it about him, and I appreciate that. The change is subtle yet quick and pronounced and Jenkins never breaks character. He leaks grief and jadedness wherever he goes but you can sense when he is really happy and when his passive bubble is burst. This isn't a role with lengthy soliloquys and in fact the character is quite an awkward one but somehow this only makes it more humanistic, more compassionate.

Music is a uniting force in this movie and whomever chose it has a wonderful ear. Good interspersing of African drum beats among the expansive piano runs. The director managed to make New York look very spare but it's never an image of complete coldness. In fact the cinematography is quite warm and this is all owing to Jenkins' quiet sympathy. It just goes to show that depression is not the answer and even though it doesn't end happily I'm left feeling...elevated somehow. Who was really the one most elevated, the immigrants or the professor? I guess the ending shows the professor, the "visitor" was the one that was. I guess the "visitor" is a metaphor for a happenstance upon a really rich culture. I don't know, honestly I'm really struck by Richard Jenkins. I hope he at least gets considered for an Oscar nod. I can't usually tell these things but this nuanced role was played beautifully and naturally.
Jennifer Xu
Super Reviewer
The Visitor Quotes
| | |
| --- | --- |
| Tarek: | She's a good muslim. I'm a bad one. |
| | |
| --- | --- |
| Mouna: | This feels like Syria. |
| | |
| --- | --- |
| Walter Vale: | We are not helpless children! |