Married Life
(2008)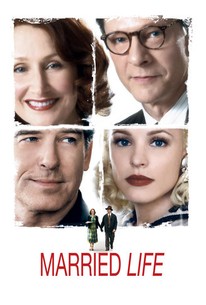 TOMATOMETER
AUDIENCE SCORE
Critic Consensus: Married Life has excellent performances and flashes of dark wit, but it suffers from tonal shifts and uneven pacing.
Movie Info
A very gentle middle-aged man is married, but when he falls in love with another woman, he decides that to divorce his wife will be to humiliate her too much. So instead he decides to kill her.
Critic Reviews for Married Life
Audience Reviews for Married Life
Good, but expected it to be better. End just felt a bit flat to me. However, very nice to look at, and cast all good - kind of like of like one of the old film noir movies. Just would have liked a little more to it.
Nicki Marie
Super Reviewer
½
The characters are rich and the acting excellent, but nothing in this subdued little thriller really seems to stick. As a chamber drama or a little sociological portrait of infidelity of the upper-middle class, Married Life does the trick, but aren't there a million other movies like this? There's nothing fundamentally that sets this apart from the scores of other movies about barely-restrained marital dissatisfaction. I mean, why give this a second when Far From Heaven is sitting there, an infinitely richer and more original exploration of similar themes? I don't mean to discredit the successes of Married Life; as I sat through it, it disarmed me with its surprising compassion toward its characters and the mature interpretations from the performers channeling them. Perhaps the quality that DOES make this movie stand out is an attempt to place a desperately unlikable protagonist in front of us and ask us to forgive and understand him. The one problem here is that Chris Cooper is simply irredeemable, as hard as the movie tries. The attempts at drawing sympathy for his situation are admirable and ambitious, but they simply fall short - it is extremely difficult to vindicate such repulsive actions without seeming overly manipulative, and though Married Life nobly attempts a quieter justification, it isn't enough. The only other surprise Married Life has up its sleeve is a fantastic performance by Rachel McAdams. We fully expect Chris Cooper to be great, so no surprise there. Pierce Brosnan offers nothing exceptional but operates well within type; Clarkson, as much as I love her, offers a studied but uncomplicated riff on her "housewife experienced in the art of suffering" routine. McAdams, though, is a fascinating actress; her highly limited filmography speaks well of an enigmatic allure, which she funnels elegantly into Kay Nesbitt. Kay is a deceptively deep woman, observant and compassionate but with a clear sense of what she wants for herself. She hesitates, but not because she is expected to, but out of legitimate concern for others. We learn something new about her in every scene we spend with her; McAdams does a commendable job unfurling different layers of this character as the film progresses, never giving us too little or too much. So great. I really wish there was more to this movie, because I feel like it's perched on the brink of greatness but just needed a bit more thought. Another rewrite. Something to energize it more. Maybe a sharper visual eye - there's nothing interesting to look at here other than the opening titles. In its current form, it's doomed to be forgotten, if only to be rediscovered as an actorly curio and subsequently reminding its finders why it was forgotten in the first place.
Drew Smith
Super Reviewer
it's odd the lengths someone will go to, to not hurt someone they love/loved. i really liked it. i couldn't stop watching it, very suspenseful. you can't help but feel like at any moment someone is going to be murdered. it's dark, but very true to life.. everyone's been in a relationship like these depicted in this movie.
Alexis Nomm
Super Reviewer
Married Life Quotes
There are no approved quotes yet for this movie.