La Graine et le Mulet (The Secret of the Grain) (Couscous)
(2007)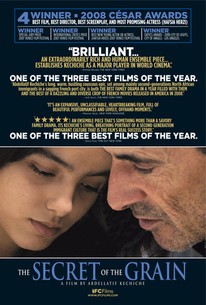 TOMATOMETER
AUDIENCE SCORE
Critic Consensus: A complex portrait of an immigrant family, The Secret of the Grain is a sprawling, intimate film with many fine performances.
La Graine et le Mulet (The Secret of the Grain) (Couscous) Photos
Movie Info
Though it is seldom discussed (or acknowledged) in the West, modern-day France incorporates a substantial number of immigrant communities, with many indigenes from North Africa populating the bucolic regions of southern Gaul. Abdel Kechiche's La Graine et le Mulet hones in on one such community, located on the ocean, which exudes a laid-back, unforced rhythm and a slower pace of life for all of its residents. For many years, one such occupant, sexagenarian Slimane Beiji (Habib Boufares), has nurtured a single lifelong dream: to open up his own couscous and fish restaurant in the community. This dream appears ever more impossible when Slimane is promptly laid off, but he soon lands on the idea of occupying a wrecked boat and converting it into the restaurant. Meanwhile, the gentleman has recently divorced his wife, Souad (Bouraouia Marzouk), and has moved into a hotel owned by his lover, Latifa (Hatika Karaoui), but Slimane's extended family continues to meet at Souad's home on a weekly basis for her beloved fish couscous, where they expostulate their views on life and reflect on the state of their relationships with one another. In a tangentially related subplot, Slimane's oldest son, Hamid (Abdelhamid Aktouche), enjoys an extramarital affair, ignoring his nuptials with his Russian wife and the presence of his infant boy, and thus endangering the sanctity and happiness of his family. ~ Nathan Southern, Rovi
Critic Reviews for La Graine et le Mulet (The Secret of the Grain) (Couscous)
Audience Reviews for La Graine et le Mulet (The Secret of the Grain) (Couscous)
An intimate invitation into the lives of a French-Arab family, THE SECRET OF THE GRAIN is a long and complex drama that reveals multiple aspects of familial relationships by utilizing various dynamics that reflect its characters' emotions without the need to overly express. Abdel Kechiche's film features performances from its large ensemble cast that are impressive, natural, and always believable, as well as a story that builds gradually and effectively before reaching an abrupt but satisfying climax. Shot entirely hand-held, the film's visual style places us right next to the family members as they eat, argue, converse, and panic as if we were included in their small community. In doing so, Kechiche has crafted a film that is both intricate and genuine - one that never feels long and is subtly riveting til the very end.
Sheldon Chau
Super Reviewer
What an incredible experience! A quiet, very dignified man, Slimane (Habib Boufares), a Turkish immigrant to this southern port city in France, pursues his dream after getting laid off at the job he has held for 35 years. He buys an old hulk of a boat and converts it to a couscous restaurant. Helping him to realize his dream is as varied a cast of characters as one could ever hope for. Hafsia Herzi is stunning as Rym, the daughter of the woman he now lives with and the person who most believes in him. She definitely goes on this viewer's watch list. I want to see more of her! Slimane's family is a noisy, fractious bunch that includes several grown children and their spouses who gather at their mother's house for Sunday dinners. The conversation flows freely and one instantly feels a part of the bonhomie. At two and a half hours, it runs long, but even so, it never seems to drag. The emotions are intense, the story compelling, the frustrations of swimming against the cultural tide are palpable and the heroic dignity of Slimane makes this a superb view into this community.
Mark Abell
Super Reviewer
½
A very good film that I almost turned off 40 minutes in. I'm very glad I didn't, the ending alone is worth sticking it out for. Aside from the over-long exposition, La Graine et le Mulet is a film that is really, really interesting to think about after watching it, as it tells a story of one family finding its place in its adopted homeland. It's very hard to summarize the story without ruining the drama, but suffice to say that Claude Berri plays into stereotypes very well, and over the course of the film turns you for and against his protagonists very easily. I think this film is meant to expose the viewer's pre-conceived notions and make you question yourself: if you're French and happen to be a little xenophobic, you'll see it very differently than if you're an immigrant to France from North Africa... and if you're a neutral Canadian like me? It's an eye-opener to a variety of discrimination that's generally not seen here, and a good film to watch for that reason. The movie's a bit on the long side, but all in all it is worth sticking it out for enjoyable and poignant second half.
Daniel Perry
Super Reviewer
La Graine et le Mulet (The Secret of the Grain) (Couscous) Quotes
There are no approved quotes yet for this movie.