[Rec]
(2007)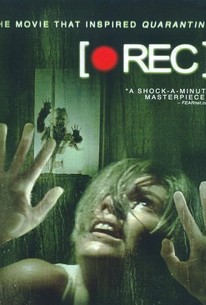 TOMATOMETER
AUDIENCE SCORE
Critic Consensus: Plunging viewers into the nightmarish hellscape of an apartment complex under siege, [Rec] proves that found footage can still be used as an effective delivery mechanism for sparse, economic horror.
Movie Info
After teaming up in 2002 for the dramatic music documentary OT: The Movie, Spanish horror specialists Jaume Balagueró (Darkness) and Paco Plaza (Second Name) join forces once again for this experimental frightener about a mysterious outbreak in an old tenement building. Reporter Angela (Manuela Velasco) and her trusty cameraman Pablo are following a local fire crew for a segment of their reality television series "When You're Asleep" when the firefighters receive a distress call from a nearby apartment building. An elderly woman has become locked in her apartment; a routine call by any account. The police are already on the scene, so now it's up to firemen Manu (Ferran Terraza) and Alex (David Vert) to break down the door and ensure that no harm has come to her. Upon arriving at the building, everything appears normal. But the calm atmosphere at the moment betrays the horrors that begin to unfold after the firemen break down the tenant's door and experience something that no one would believe had it not been captured on camera. Later, as the building is surrounded and quarantined, Pablo continues to roll tape to ensure that whatever the outcome of this terrifying situation may be, there will be some evidence to ensure that the truth gets out.
News & Interviews for [Rec]
Audience Reviews for [Rec]
½
Suspenseful, intense, scary, and gory, [Rec] is without a doubt one of the best Horror movies of the past decade, if not of all time. 2007 had not seen a whole lot of found footage movies, so this style was relatively new, and it's yet to have been done better. We follow a young reporter and her cameraman (who represents us) as they become unwillingly quarantined in an apartment with its residents. An outbreak is turning those infected into zombies (a term never used). This film creates the "you are there" experience like nothing you have seen or will see before. Nothing feels staged. The scariest moments are things that are happening in the frame but not front and centre. As the story slowly gets revealed, you get more unnerved. There are brilliant and terrifying scenes that will stay with you for days.
Edward Boxler
Super Reviewer
[img]http://images.rottentomatoes.com/images/user/icons/icon14.gif[/img]
Directors Cat
Super Reviewer
A fun, inventive, and jumpy found-footage horror film that has it's share of thrills, especially in the final act. The acting for the most part is pretty good & I like that they don't make you wait too long before diving into the madness. And while I saw most gags coming from a mile away, there were still a couple of instances where I was genuinely shocked. The sound designed really augmented the horror of these moments and some scenes were delightfully disorienting because of it. Unfortunately, the film spends way too much time trying to explain the phenomena and not enough time on creating a foreboding atmosphere. Also, while I understand that the filmmakers have to establish good reasons for having the camera rolling at times when the cameraman should be fleeing in terror, if I had to hear the protagonist say "We have to record this!" one more time, I was going to throw myself down a stairwell. A bit over-hyped I must say, but overall an entertaining thriller.