Look
(2007)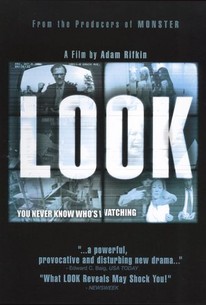 TOMATOMETER
AUDIENCE SCORE
Critic Consensus: Though Adam Rifkin's voyeuristic film sometimes feels like only a clever gimmick, it's for the most part a compelling thriller with political overtones.
Movie Info
The Post-9/11 world has forever changed our notion of privacy. There are now approximately 30 million surveillance cameras generating more than four billion hours of footage every week in the United States. And, the numbers are only growing. The average American is captured over 200 times a day--in department stores, gas stations, changing rooms, and even public bathrooms. No one is spared from the relentless, unblinking eye of cameras hidden in every nook and cranny of day-to-day life. Shot entirely from the point of view of the security cameras. Adam Rifkin's "Look" follows several interweaving, storylines over the course of a random week in a random city. A high school English teacher tries his best to be a decent husband; a department store floor manager uses the warehouse for more than just storage; a Mini-Mart clerk has big dreams; a lawyer struggles with a sexual dilemma; and two sociopaths thrive on ruining the lives of random strangers. "Look" tells five private stories which unfold before the prying eye of the covert camera to chilling effect. We all choose to hide aspects our lives from those around us, whether it is as benign as picking our noses in an empty elevator or something much darker. "Look" poses the pivotal question: Are we always alone when we think we are?
News & Interviews for Look
Audience Reviews for Look
½
The stated intention of "Look" is to show how much time we spend being captured on cameras, by staging the action as if it was being filmed by security cameras. So far, so good. But the movie cheats by including dialogue that would not normally be taped, robbing the movie of any ambiguity that the far superior "Red Road" developed wonderfully. What actually happens with "Look" is that the cameras show how much we lie during the course of a day while the cameras show what the truth is. All the while, we have to ask is anybody watching these images. Probably, since they are occasionally fastforwarded, indicating somebody somewhere is getting bored. The focus of a series of interlocking melodramatic storylines is a shopping mall where Sherri(Spencer Redford) and Holly(Heather Hogan), a pair of vapid teenagers, are trying on clothes in a department store where Tony(Hayes MacArthur), a store manager, is intent on having sex with anything that moves. Sherri will be content with shoplifting and and seducing her English teacher, Mr. Krebbs(Jamie McShane). As bad as some of that sounds, there are worse scenes that are almost impossible to watch while there is one perfect scene in the film that involves a car crash. All of which is emblematic of a low view of human nature with a few exceptions.
Short Cuts with surveillance cameras. Unfairly overlooked writer/director Rifkin creates a fascinating film by following multiple characters stories using only footage of them from various forms of video surveillance (I had no idea so much video surveillance cameras recorded audio, but I'm willing to overlook that nitpick because I enjoyed the film so much). Some stories are horrifying and some simply tragic, but all of them are entertaining and well performed. It's a shame this movie never got a decent release, but much like Rifkin's best films, will eventually become hidden gems. And for Dark Backward fans, check out the advertisement on the bus!
Christopher Brown
Super Reviewer
I expected a lot more from this movie then what I got. Lots of T&A, beautiful young women, not real point other then we are on camera where ever we go and when someone wants to use it against us they will. One of those put the kids to bed early movies. Really not a Movie but a Documentary. 1/2 star, pointless.
Bruce Bruce
Super Reviewer
Look Quotes
There are no approved quotes yet for this movie.