Man in the Chair
(2007)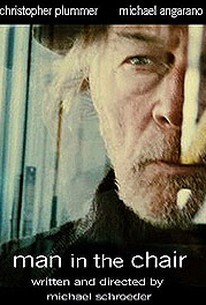 Movie Info
With the help of a group of retired filmmakers living at the "Motion Picture Home for the Aged," a rebellious teen enters a student film competition in hopes it will get him into film school.
Critic Reviews for Man in the Chair
Audience Reviews for Man in the Chair
½
I DESPERATELY wanted to love this movie. Such a sweet premise. Indie flick that's barely anyone has seen...and WOOOOOOO BOY WOOOOOOOOOO DAMN WOOOOOOOOOOOOOHHHh MIGHT MIGHTY MERCY ME!!! It sucked. Christopher Plummer does a fine job, but he's the ONLY redeeming aspect of this movie. First of all, why on God's green Earth did the DP decide to film half of the movie in a shaky, piece of shit, Transformers-style montage with quick wipes and pans that COMPLETELY take you out of the movie? Worse yet, why the fuck does he tack on a disgusting green filter Matrix-style that make you vomit all over your pants? Why the fuck was he born? Da fuck is dat shit all bout? The last comment may have been harsh. BUT NO! Let's talk about the ridiculous script. So the main character is apparently "bullied" by a rival filmmaker. Really? How the fuck is he "bullied" if he: A - Launches his bicycle off the dude's car B - Tackles him in a bowling alley and gets arrested for assault C - BLOWS UP THE DUDE'S FUCKING MOVIE. YES he BLOWS UP THE DUDE'S MOVIE. Talk about a brilliant way to end an "inspiring montage" with Christopher Plummer. All right now, boy, let's get that final shot! OH MY IT KICKS ASS WERE GOING TO WIN AN AWARD FOR THIS! LETS GO OUT AND CELEBRATE LIKE OLD PEOPLE AND YOUNG HIGHSCHOOL FUCKS DO IN THIS DAY AND AGE! DRINKING MONTAGE!!!! DRINKIN MONTAGE AND SMOKIN CIGARS MONTAGE!! QUICK CUTS AND PUKE GREEN CAMERA SHOTS MONTAGE!!! AND NOW LETS BLOW UP THIS POOR BASTARDS GENERATOR MONTAGE! YESSSSSSSSSSSSSSS SIR EPIC. Fuck me.
Karl Vanderhoof
Super Reviewer
Man in the Chair Quotes
There are no approved quotes yet for this movie.