Passengers
(2008)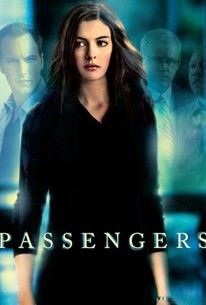 Movie Info
After a plane crash, a young therapist, Claire, is assigned by her mentor to counsel the flight's five survivors. When they share their recollections of the incident--which some say include an explosion that the airline claims never happened--Claire is intrigued by Eric, the most secretive of the passengers. Just as Claire's professional relationship with Eric--despite her better judgment--blossoms into a romance, the survivors begin to disappear mysteriously, one by one. Claire suspects that Eric may hold all the answers and becomes determined to uncover the truth, no matter the consequences.
Critic Reviews for Passengers
Audience Reviews for Passengers
½
Uneven exposition just about murders this suspense piece (with a wee love story on the side) that seems to wait too long for a twist ending. Luckily the charisma of the leads carries the day until payoff time.
Kevin M. Williams
Super Reviewer
This movie was an okay movie, good cast and well acted, however it is rather slow and what saves this movie in order for me to say its a good movie is the ending! its a nice twist and quite a surprise so may be worth the watch!
Film Crazy
Super Reviewer
So Bradley Cooper - I mean Patrick Wilson - is in everything. There's nothing wrong with any of the performances, including Wilson and Hathaway's. Morse is always great, the gentle, soulful giant that he is. But I have to agree with some of the critics who remark that the film seems like a distant, uninteresting mystery until the very end, when everything comes together ... and after a certain point, even that wasn't much of a surprise. Unlike other films with remarkable endings (I'm thinking specifically of Angel Heart), the payoff is not worth sitting through the rest of the journey.
Jim Hunter
Super Reviewer
Passengers Quotes
There are no approved quotes yet for this movie.