Sugar
(2008)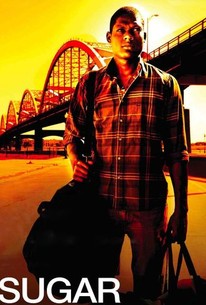 TOMATOMETER
AUDIENCE SCORE
Critic Consensus: Sugar is an exceptionally-crafted film -- part sports flick, part immigrant tale -- with touching and poignant drama highlighted by splendid performances.
Movie Info
Filmmakers Ryan Fleck and Anna Boden (Half Nelson) weave this introspective sports drama concerning a talented Dominican baseball player who longs to break into the American big league and earn the money needed to support his impoverished family. Miguel Santos is a talented pitcher who might just have what it takes to earn a prized spot on a Major League Baseball team, but before that happens he'll have to prove his worth in the minor leagues. Advancing into the United States' minor league system at the tender age of 19, Miguel is warmly welcomed into the small-town Iowa home of his host family, but can't help but struggle with language and cultural barriers despite the kindness of strangers. Subsequently forced to reevaluate his life's ambition after his once-trusty arm becomes unreliable, the previously single-minded pitcher gradually begins to question both the world he lives in and the role he has chosen to play in it.
News & Interviews for Sugar
Audience Reviews for Sugar
½
This was the follow up to Anna Boden and Ryan Fleck's surprise hit Half Nelson, and, like that one, this is a smart, heartfelt tale that has a great message, but is still entertaining without being overly preachy. The story concerns 19 year-old Miguel "Sugar" Santos, a talented pitcher from the Dominican Republic who dreams of getting sent to the U.S. to make it big in the major leagues. Before he can get that far though, he has to start lower, and his big dreams start off with him being sent through the ranks of the minor leagues, where he ends up in a small Iowa town. His experiecnes there, mostly involving his struggles with a foreign language and culture cause him to start reevaluating his life's ambition and make him question if he's really on the right path in life. This is a sports movie, but not in the typical sense. It's mostly a character study about the immigrant experience in the U.S., with a nice examination specifically of Latin American and Caribbean athletes and how they fit into the big picture. I originally thought this was a documentary, or perhaps a docudrama, but no, the specific story is entirely fictional, though it is heavily influenced by real life stories That I thought this was non-fiction is a testament to Boden and Fleck's knowledge of the subject, and the high leve lof authenticity and honesty on display in the film. They did their homework, and realy know their stuff, and the result is a wonderful look at both the immigrant experience, and the world of immigrants in the minor leagues. If I have to air complaints, then I'll point out that the film's overall pacing could have been perhaps a bit tighter, and how the third act overall seems to lose a lot of momentum I thought. It doesn't derail completely, but it does start to drag. Also, the way the flm was done just seemed really "typical" to me. There's no denying this is an indie film, and it seems like the film wants that fact to be known. Kidna got to me a bit, especially since Boden and Fleck's other two major films are like that as well (to varying degrees). All in all though, this is a really decent film. It's got some good performances, a great message, and is an insightful look into a neat subject.
Chris Weber
Super Reviewer
This is not a sports film at all; Baseball is only the setting for a story of human experience. Sugar is a wonderfully crafted movie, a story of opportunity and adaptation made more effective through the perspective of an immigrant chasing his "one opportunity" for success. The journey is fascinating, the progress from a baseball academy in the D.R. to living with an Iowa family and finally living in New York surronded by others who had made the journey before. Sugar is a uniquely American story told in a refreshingly honest way.
Clintus Maximus
Super Reviewer
½
a wonderful baseball movie that sits tragically as a hidden gem. the end of the film left too much uncertainty for a character that we came to care about, but the journey we travel to the point of being left wondering is a heartfelt and worth while journey. if you love baseball then watch this film, it leaves the normal cliches of overdone "feel good" sports films behind.
Sugar Quotes
There are no approved quotes yet for this movie.