The Guitar
(2008)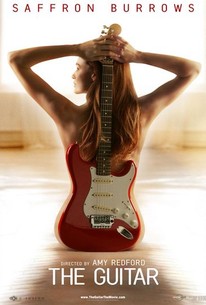 Movie Info
A doomed woman discovers her creative spirit during a final fling with life in this independent drama. Melody Wilder (Saffron Burrows) is already having a bad day when she visits her doctor about a troubling lump in her throat -- her boyfriend has left her, and she's lost her job. However, this news pales in comparison to what her doctor (Janeane Garofalo) has to say: the lump is an inoperable cancer, and Melody has only a short time to live. Throwing caution to the wind, Melody rents a huge, luxurious apartment and furnishes it in high style, putting her purchases on a handful of credit cards she won't be around to pay off. Melody also permits herself affairs with a few of the deliverymen who have become regular visitors to her loft, but she spends most her days alone, enjoying the trappings of wealth as she ponders what little future she has left. One day, Melody makes an impulse purchase, a red electric guitar that looks like one she wanted as a girl. While Melody isn't schooled on the instrument, she begins teaching herself to work out chord patterns and melody lines, and in the last chapter of her life discovers a way to give voice to the pain and confusion she's buried within her. Written by veteran underground filmmaker Amos Poe, The Guitar was the first feature film from director Amy Redford. ~ Mark Deming, Rovi
Critic Reviews for The Guitar
Audience Reviews for The Guitar
Well, here ya go. This would be me in a nut shell if I found out that I only had 30-60 days left to live.....that is, if I didn't have kids and a husband that would have to inherit my debt. This girl totally decided to live out her dream before it was too late. I can't even imagine a better way to go out. Nice little twist there at the end. It probably doesn't hurt that I am a sucker for a decent music inspired film.
Cynthia S.
Super Reviewer
½
"The Guitar" starts with Melody Wilder(Saffron Burrows) being diagnosed with inoperable cancer by her doctor(Janeane Garofalo) and given probably a month to live. To add insult to a terminal diagnosis, she is laid off and dumped by her boyfriend(Reg Rogers) in quick succession. While contemplating a shortcut to oblivion, she instead notices an ad for a short-term luxury apartment to which she sinks her savings and severance check into. "The Guitar" is a modest movie that is buoyed by a very fine performance from Saffron Burrows. Most people with little time left to live might be inclined to travel to a sunny beach somewhere but Melody is a New Yorker and a New Yorker's perfect fantasy is a spacious apartment. And that's not the only fantasy explored here. But after a while, it becomes clear that there are only two directions this movie can go in. In the end, it chooses the wrong path which leads the story to become more preposterous as it goes on as fantasy becomes more the rule than any reality.
½
What would you do if on the same day you get laid off, your boyfriend decides to dump you and you are told you have cancer and only a month or two to live? This movie presents one response. Makes you think.
The Guitar Quotes
There are no approved quotes yet for this movie.