The Scarecrow
(1920)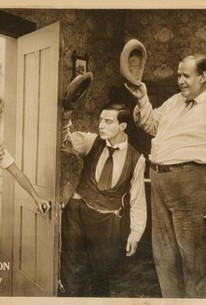 AUDIENCE SCORE
Critic Consensus: No consensus yet.
Movie Info
Buster Keaton's two-reel work in the early '20s was incredibly rich -- nearly every picture is funny and even the shorts that fall short of classic contain moments of comic brilliance. Because Keaton has so much excellent work from this time in his career, some films get overlooked unfairly, and The Scarecrow is one of them. It's classic Keaton all the way, from the beginning when he and his roommate (big Joe Roberts) prepare a meal with the use of all sorts of convoluted Rube Goldberg contraptions and odd conveniences: a victrola becomes a stove, condiments hang from the ceiling, and the tabletop -- plates and all -- becomes a homey plaque on the wall. The two men are both in love with the farmer's daughter (Sybil Seely), but the farmer (Joe Keaton, Buster's father in real life) isn't too thrilled with either of them. After being pursued by a supposedly mad dog and disguising himself as a scarecrow, Buster wins the girl in spite of himself and they have to elude the roommate and her father. The final chase is pure manic poetry, ending in a marriage ceremony performed on a motorcycle and a sidecar, which flies into a lake with the bride, groom, and parson all on board.
Critic Reviews for The Scarecrow
Audience Reviews for The Scarecrow
The film "The Scarecrow" is 18 Minutes in Length but delivers a feature film's worth of laughter! While Keaton plays the part of the scarecrow fairly late in the short film it's the dog chase scene that is the centerpiece of the movie. The dog does some pretty crazy work when it climbs the ladder but it's Keaton who displays the most adept sense of athleticism. The guy was blessed with an extraordinary talent to create and employee his creations to the best of his abilities to make comedic gold. The ending sequence in which Keaton and Sybil Seely (the farmer's daughter) ride the motorcycle into the lake and the parson, also precariously on board, marries them in the water. The film ends with this and a closing out of Keaton's face spitting out water, it's genius! This is another one of the many short films of Buster Keaton that are some of the best moments in comedy history!
Chris Browning
Super Reviewer
The opening sequence with the string-operated dining-room gadgetry is just blindingly brilliant. The remaining minutes are a letdown in comparison, but the first section can not be missed. The film is 20 minutes, rather than two as listed above.
Eric Broome
Super Reviewer
Once again Buster Keaton cleverly crafts some fun scenes with a unique and original quality to them. Another good short from the talented slapstick star.
Lady D'arbanville
Super Reviewer
The Scarecrow Quotes
There are no approved quotes yet for this movie.