The Other Man
(2008)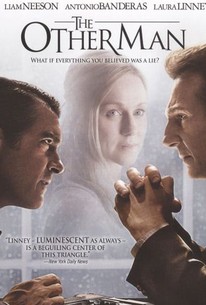 Movie Info
After many years of marriage a man's wife dies. Shortly afterwards, a letter arrives for her from another man. Obsessed with finding out the truth, the husband writes back, impersonating his dead wife. Soon he discovers a love which he cannot understand.
News & Interviews for The Other Man
Critic Reviews for The Other Man
Audience Reviews for The Other Man
The Other Man, it's for sure, a truly waste of time. Not only to the audience, but also for the actors, the writer, director, all the crew, for everyone that had made or watch it. When the movie could finally change, at least a not so terrible end it flaws. Talented actors in a real lost of time and money. Rotten.
Lucas Martins
Super Reviewer
This drama film is ultimately disappointing and deserving of its relatively low rating because its edit is annoying and telegraphs where it is going. It is about adultery and triangle of love among the husband, wife and her lover. The story is supported by Liam Neeson, Laura Linney and Antonio Banderas, but unfortunately the suspenseful screenplay has a disappointing conclusion. What baffles the viewer is the way the story has been set. One moment Lisa (Linney) is going to Milan for work, and the next, she has mysteriously disappeared. Nothing prepares us for the reality of the situation. Lisa obviously has left all the clues in her notebook for Peter (Neeson) to find. In fact, she is almost at the point of confessing to her husband her deception, but she probably wanted to spare him the truth.
Dean McKenna
Super Reviewer
Oppressively, unforgettably awful, The Other Man is the kind of movie that is so desperately self-important that it's stripped of any redeeming sense of fun. If there was even a pulse of life present here, it might have at least vaulted it to so-bad-it's-good status, but I grew too frustrated by its incompetence to find any amusement in it. Universally disappointing efforts from a talented cast, the acting is half-hearted from its veterans and hysterical from the young folks (Romola Garai, so controlled and smart in Atonement, seems here to have been told "look rheumy and yell a lot"). Liam Neeson and Antonio Banderas invite us to spectate the single most boring clash between men of all time, and relegating Laura Linney to a role seen only in flashback is simultaneously the film's best and worst decision. She's the closest thing the movie has to expressing a tone, but at the same time, she's so rarely seen that it simply can't capitalize on her. I'm sure that her absence reflects very well on her, as long as you can ignore the shamelessly awful last ten minutes or so, but it does nothing to liven Neeson's poorly edited, inhuman, uncaptivating search for truth. Note to self and others: when a film with a cast like THIS disappears, there's usually a reason.
Drew Smith
Super Reviewer
The Other Man Quotes
| | |
| --- | --- |
| Peter: | I want to know who he is and I want an identity. |
| | |
| --- | --- |
| Abigail: | Hello? Dad? |
| Peter: | Listen, can I talk to you? |
| Abigail: | Yeah. Just talk dad, it's what people do on phones. |