Angel
(1984)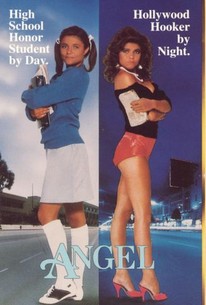 AUDIENCE SCORE
Critic Consensus: No consensus yet.
Movie Info
The original "honor student by day, hooker by night" melodrama, Angel stars Donna Wilkes in the title role. During the daylight hours, the 15-year-old Angel is known as Molly, a model prep school student. Devoid of parents, Molly must find some way to keep up the cash flow, so she hits the Hollywood mean streets as a prostitute. While we thankfully don't see Angel "in action", as it were, the film makes up in violence what it lacks in raw sex. Psycho John Diehl is on the loose murdering prostitutes; detective Cliff Gorman tries to stem the murder spree, but soon the hooker ranks are sorely diminished, leaving Angel the next likely target. With the help of such friends as ex-cowboy star Rory Calhoun and transvestite Dick Shawn, Angel manages to avoid becoming a statistic. We're not giving anything away here: after all, there was a 1986 sequel, Avenging Angel.
Audience Reviews for Angel
Meh, this was alright, but I can't help but feel like they weren't sure if they were trying to make an 80's teen sex / dramedy or an exploitation slasher flick. The movie doesn't really suceed at doing either, but a rather enjoyable balance is met regardless. Angel is an A student by day, but a hooker by night. When a maniac necrophiliac begins brutally murdering prostitutesm Angel takes it upon herself to seek justice. In the end not funny enough to be a comedy, not risque enough to be exploitation, to little nudity to fit properly into the teen sex genre, virtually no gore so it's not a horror movie. Really just a bizarre little footnote in the cannon of 80's cheese, but a pretty enjoyable one regardless. Definently worth a watch if you want something different, just not as good as I think it could have been . Was definently expecting a much darker comedy, and much more sleaze.
Ed Fucking Harris
Super Reviewer
I really liked this movie, it's exciting, dramatic, and quirky. The story is good, and the characters interesting. On the technical side, it could be better, like some good music could be added, but it's low budgetness makes is kinda cool too. Anyway I enjoyed it.
Eighties cheese combined with eighties sleaze.  A terrible, but wonderful lead performance from Donna Wilkes as Angel/Molly, a student by day, prostitute by night that you never belive for one second.  Dick Shawn as her cross dressing maternal/paternal figure is excellent, though I?ll always see Lorenzo Saint Dubois whenever I look at him with or without a dress.  An insanely entertaining insane killer has begun slicing up Angel?s workmates, and it?s up to her to take him down.  Loaded with great character actors (Rory Calhoun, Susan Tyrrell, Cliff Gorman) and awful dialogue, this is a great watch.
Christopher Brown
Super Reviewer
Angel Quotes
There are no approved quotes yet for this movie.