Old Dogs
(2009)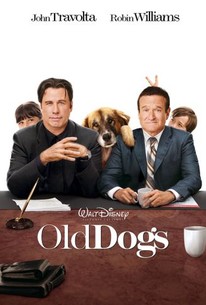 TOMATOMETER
AUDIENCE SCORE
Critic Consensus: Its cast tries hard, but Old Dogs is a predictable, nearly witless attempt at physical comedy and moral uplift that misses the mark on both counts.
Movie Info
Two best friends -- one unlucky-in-love divorcee and the other a fun-loving bachelor -- have their lives turned upside down when they're unexpectedly charged with the care of seven-year-old twins while on the verge of the biggest business deal of their lives. The not-so-kid-savvy bachelors stumble in their efforts to take care of the twins, leading to one debacle after another, and perhaps to a new-found understanding of what's really important in life.
Critic Reviews for Old Dogs
Audience Reviews for Old Dogs
I really love Old Dogs. Even just on the soul fact that John Travolta and Robin Williams are in a movie together was enough to get my attention, but the result is comic gold. After seeing this around three times for some reason, I still think it's just as funny. Now I can see why this was critically bashed beyond belief and people in general just hate it, but it doesn't affect me in the slightest. I think the reason I find this to be so funny is the fact that it takes middle-aged jokes to the extreme. The pill mix-up thing gets me every time as well as the extra tan session. Then there's the great cameos from Matt Dillon and a redneck Justin Long that really send it over the top.
Conner Rainwater
Super Reviewer
I couldn't stop laughing on people getting hit in the nuts by golf balls, but that, at least, is worth a smile. Not so the moment Dan (Robin Williams) enters a tanning booth and - gasp! - ends up turning browner than an M&M thanks to an operational mishap. And when he and Charlie (John Travolta) discuss their complicated regime of pills and their side-effects, you can be sure that within minutes they'll be taking the wrong ones by mistake, leading to all sorts of high jinks. It's light entertainment in the truest sense of the word, being light on both laughs and substance. Williams and Travolta as two lifelong friends and business partners share a remarkably poor chemistry. In the film's favour is that the youngsters, Emily and Zach - the former played by Travolta's real-life daughter, Ella Beau - are likable rather than cloying, Seth Green is, sadly, under-used, and the fact that everyone has to mug so hard for their laughs is an unfortunate consequence of the writing just not being funny enough.
Dean McKenna
Super Reviewer
A nice family movie with a little of comedy too. It was a decent story with some heart-felt emotion at the end, of course its Disney... Charlie and Dan have been best friends and business partners for thirty years; their Manhattan public relations firm is on the verge of a huge business deal with a Japanese company. With two weeks to sew up the contract, Dan gets a surprise: a woman he married on a drunken impulse nearly nine years before (annulled the next day) shows up to tell him he's the father of her twins, now seven, and she'll be in jail for 14 days for a political protest. Dan volunteers to keep the tykes, although he's up tight and clueless. With Charlie's help is there any way they can be dad and uncle, meet the kids' expectations, and still land the account?