Angel Heart
(1987)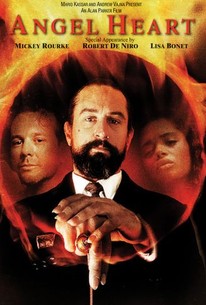 Movie Info
The time is the 1950s: seedy Brooklyn private eye Harry Angel (Mickey Rourke) is hired by shady Louis Cyphre (Robert De Niro) to locate a pop singer who reneged on a debt. Harry ventures into Harlem, the first step of a Heart of Darkness-inspired odyssey. Each time Harry makes contact with someone who might know the singer's whereabouts, he or she is killed in a horrible, ritualistic fashion; a Satanic cult seems to be at the bottom of all the carnage. Harry solves the mystery, all right. He just didn't know that he had the answer all along -- even before Louis entered his office. Also available in the "unrated" video version, Angel Heart is best known as the film that nearly got an X-rating due to a no-holds-barred sex scene involving Mickey Rourke and Lisa Bonet.
Critic Reviews for Angel Heart
Audience Reviews for Angel Heart
½
A spectacular thriller that knows how to combine noir and horror, with a beautiful cinematography, flawless editing, a remarkable performance by Mickey Rourke (who is never less than extraordinary) and an absorbing plot that holds our attention from the first second until the very last.
Carlos Magalhães
Super Reviewer
Psychological horror films are quite hard to pull off, but Angel; Heart on the other hand is a stunning achievement, a film that is so haunting, dark atmosphere and has a great cast of actors and a well thought out storyline. The horror steadily builds up, the way a good horror should, and here we have a picture that really does stand out among other similar films. . If you enjoy psychological horror films, Angel Heart is one of the finest that I have seen. The story is exceptionally well told, the direction is top notch and the acting is precise, immaculate and memorable. Alan Parker is a fine filmmaker and captures something wonderful here; wonderful, yet eerie, terrifying and unflinching in the way he builds up the horror. Angel Heart is a brilliant picture, a film that relies on atmosphere and a great story to let the terror unfold, and it does it very well. Angel Heart is a standout horror tale, a film that showcases a young Mickey Rourke at his very best, and with The Wrestler, I would say that this is finest work he has done. I love a well constructed horror film, and Angel Heart is most certainly that and more. The film uses striking images to make the viewer feel uneasy, and it works quite well. The way the film tackles its plot is great and it's a slow burn n terms of letting things unfold, instead of going quickly into the action, things steadily unravel, and therefore you're more on the edge of your seat. I heavily recommend the film, and Angel Heart may be one of the finest films in 1980's horror cinema.
I thoroughly enjoyed this film, though it was creepy enough to make my skin crawl. I sensed a palpable stench of death throughout the film. The acting was excellent, even "Cosby daughter" Lisa Bonet's. DeNiro was fantastic as always; just the sight of his extra-long fingernails made me shiver. Mickey Rourke was great in his starring role as well. It's a shame what has happened to his face since this movie was released, but his new appearance does make "The Wrestler" more authentic. At its heart, this film is a mystery in which all characters have something to hide. Every stone Harry Angel overturns reveals more questions and more corpses. I also enjoyed the twin settings of New York and New Orleans in the 1950s, although the settings were more effective at contributing to character development than being really accurate at portraying the period. While the overall mood and characters were excellently drawn, the plot did have holes. Why have Angel on a quest looking for himself? Couldn't Satan have killed these people by other means? I just didn't completely buy the ending based on the events the precipitated it. All in all, I highly recommend it. Note to PIs: Never trust a client who's willing to pay ridiculously more than something's worth. He has a hidden agenda from which you may not be able to disentangle.
Clintus Maximus
Super Reviewer
Angel Heart Quotes
| | |
| --- | --- |
| Louis Cyphre: | You've been living on borrowed time in another man's memories. |
| | |
| --- | --- |
| Toots Sweet: | Have a Two Sisters Cocktail. Then you can make up the story any way you want to. Isn't that what your reporters do anyway? |
| Toots Sweet: | Have a 'Two Sisters' cocktail. Then you can make up the story any way you want to. Isn't that what your reporters do anyway? |
| Toots Sweet: | Have a 'Two Sisters' cocktail. Then you can make up the story any way you want to. Isn't that what your reporters do anyway? |
| | |
| --- | --- |
| Det. Sterne: | He was into voodoo and all that shit. Those people 86 each other twice a week. |
| | |
| --- | --- |
| Epiphany Proudfoot: | Mama said that Johnny Favorite was as close to true evil as she wanted to get. |