Book of Blood
(2008)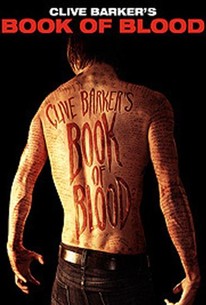 Movie Info
A paranormal expert investigating a brutal murder discovers a house that stands at the intersection of several supernatural "highways" designed to transport souls to the afterlife in this adaptation of an original story by horror icon Clive Barker.
Critic Reviews for Book of Blood
Audience Reviews for Book of Blood
½
Decent haunted house, supernatural horror yarn that could have been much better than what it turned to be. The weakness of the film lies in its extremely slow pacing where there's not really anything interesting that happens. This film had the potential in delivering memorable chills; instead this is a mostly dull affair that really doesn't thrill. Book of Blood is a decent idea, and it could have been a stellar haunted house, supernatural horror picture, however it doesn't terrify the way it should. The biggest problem with the film is that it offers too little too late, and you're left mostly bored throughout the film. I liked the film, however I simply felt that there could have been more plot development to really make this one stand out. The ideas are here, but director John Harrison seems like he doesn't know to craft a truly compelling and interesting horror movie. This film is decent at best with many flaws, and overall it feels like the director tried to rush things in order to create a film based on horror master Clive Barker's Books of Blood. Expect minor chills and a low budget feel to this one, compared to The Midnight Meat Train, this film is inferior, worth seeing if you love Barker's work, but doesn't necessitate multiple viewings as this one is pretty forgettable in the long run.
½
Good but too leisurely paced ghost story about three paranormal investigators who discover an intersection to the world of the dead located in a house in Scotland. This didn't quite turn out to be the gore-fest I was expecting, it's more supernatural based but there's the odd bloody moment here and there. It's got a good atmosphere to it all helping to provide some chilling moments but no real scares. It all moves too slowly though and the film didn't make the most of the story. The last 20 minutes were really good so there is a pay-off in the end.
½
Awful would be thriller. Jonas Armstrong, a decent actor certainly deserves better than this claptrap.
Book of Blood Quotes
There are no approved quotes yet for this movie.