Soul Men
(2008)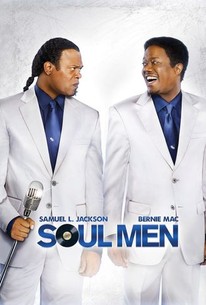 TOMATOMETER
AUDIENCE SCORE
Critic Consensus: Soul Men features lively performances from Bernie Mac and Samuel L. Jackson and some hilarious moments, but ultimately suffers from an unoriginal script.
Movie Info
In 1965, Marcus Hooks (John Legend), Floyd Henderson (Bernie Mac), and Louis Hinds (Samuel L. Jackson) were just three kids singing doo-wop harmonies around a fire barrel when legendary record producer Willie Mitchell caught an earful of their infectious harmonizing. Two short years later, Marcus Hooks and the Real Deal had signed to Hi Records, and they quickly became one of the most popular soul acts in America. But success can't last forever, and it wasn't long before Hooks decided to strike out on his own. Though Floyd and Lewis did their best to keep the Real Deal going, scoring one breakout hit with "Walk in the Park," clashing egos and "creative differences" would eventually break the duo apart. Flash-forward to the new millennium, when Hooks has won a staggering total of 19 Grammy awards while Floyd and Lewis languish in obscurity. Then, one day, while considering suicide with a mouthful of pills and a bottle of liquor, Floyd is shocked to see a news report that Hooks has suddenly dropped dead just before he was slated to be inducted into the Rock and Roll Hall of Fame. In order to celebrate Hooks' career, Hi Records has organized a lavish tribute concert at the Apollo Theater. Will Floyd and Lewis be able to put aside their differences long enough to drive cross-country and perform together on-stage one last time, or will lingering grudges ultimately cause the pair's already-tenuous relationship to implode long before they reach New York City?
News & Interviews for Soul Men
Critic Reviews for Soul Men
Audience Reviews for Soul Men
Funny, funny, funny. I nice tribute to serve as Bernie Macs last film. Highly enjoyable. My husband and I really got a kick out of this movie. It had some really fun songs, too.
Cynthia S.
Super Reviewer
½
both a buddy film and a road film, this comedy has its moments, but all too often it seems to forget how to be witty, so relies on funny looks and MF's by Bernie Mac way too often. So much of this film seems pasted together and you feel that, in spite of this being Bernie's last film, this was pretty much paint by the numbers, and just about everyone's hearts weren't in it. Sloppy is a good way to describe the direction - flashbacks of "previous" scenes, that were actually on the cutting room floor parred with a "just keep the camera rolling and something magical will happen" feel, keep this film tethered to the ground, where it could have soared. There are some nifty period soul tunes by Stanley Clark, and a nice premise, but oddly for "soul men" no soul. I truly question how a film about a soul singing act, and with such talented musicians involved (the aforementioned Clark as well as Issak Hayes), can be lazy enough to suggest that in 3 different towns a back up band shows up from out of nowhere, instantly knowing all the dudes' material and performing flawlessly. Uh, don't think so Sparky. Using the rehearsing of various backup bands could have been mined for humor as well as giving the film a more authentic feel. This film reminded me of The Blues Brothers, in the road trip aspect, and many a Lemon/Matheau comedy (Grumpy Old Men, Out To Sea, etc), only not done as well. What a waste of two very talented actors.
paul sandberg
Super Reviewer
½
Good plot/storyline, good duo, music, and a cameo from the late Isaac Hayes. Bad, bad script, empty. Expletives can only carry movie so far. Its weird how this was the last thing both Mac and Hayes worked with, soul is dangerous.
Lenny Muggsy
Super Reviewer
Soul Men Quotes
There are no approved quotes yet for this movie.