The Caller
(2008)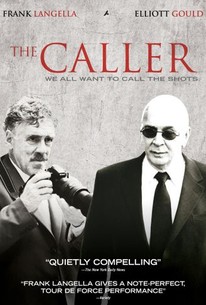 Movie Info
When a whistle-blowing executive at an international energy firm prepares to expose his company's corrupt practices in Latin America, he secretly hires a private detective to track his every move for fear that he will be killed for his bold transgression. Jimmy Stevens (Frank Langella) has had enough of the lies and deception, and now he's going to something about it. He also knows that chances are good he'll pay the ultimate price for doing what he's about to do, so as a form of insurance Jimmy hires private detective Frank Turlotte (Elliott Gould) to keep a close tab on him. But Frank doesn't realize that the man who hired him and the man he was told to trail are one in the same, and as the paths of the two men begin to intertwine, the secrets of the past offer clues to the mysteries of the future. Mulholland Drive star Laura Harring co-stars in a twisting neo-noir thriller from A Hole in One director Richard Ledes.
News & Interviews for The Caller
Critic Reviews for The Caller
Audience Reviews for The Caller
½
In "The Caller," Jimmy Stevens(Frank Langella), who after many years of being corrupt, has a crisis of conscience that causes him to not only blow the whistle on his employers in the energy industry, but also publicly expose them as the murdering scumbags they really are. This action does not come without a price as they would like him to take a trip to Red Hook. In return, he asks for two weeks in which he hires Frank Turlotte(Elliott Gould), a private investigator and birdwatcher, to trail him. "The Caller" almost succeeds solely on the merits of Frank Langella's quietly commanding performance. Overall, the movie is too modest to successfully connect its thoughts on World War II, 9/11, heightened security and oil companies into a coherent statement. Otherwise, there is not much else of interest, as it tips its hand too early when it should have instead patiently allowed the details of Jimmy's life to slowly unfold through Frank's eyes. As it is, Frank's observations verge on the unbelievably unprofessional, critiquing Jimmy as the epitome of boring.(Not to judge the watcher, but this comes from a solitary man who prefers the company of birds to humans.) There is a little bit in Frank that is endearing in finding simple pleasures in unexpected places in New York City but the film narrowly defines the city as Manhattan. It is Brooklyn where Jimmy is forced to go to.
Pretty cool movie a Private Investigator is hired by a man who wants the PI to follow someone, who the man who hired him. Twist and turns throughout. I enjoyed the suspense and Drama I'd give it 4 stars
Bruce Bruce
Super Reviewer
The Caller Quotes
There are no approved quotes yet for this movie.