Alvin and the Chipmunks: The Squeakquel
(2009)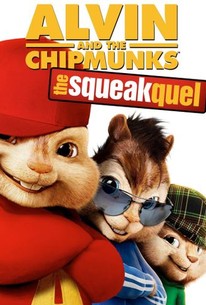 Alvin and the Chipmunks: The Squeakquel Photos
Movie Info
"Alvin and The Chipmunks: The Squeakquel" brings back our favorite furry brothers, Alvin, Simon and Theodore. Because of a freak accident involving Alvin and Dave Seville, they go to live with Dave Seville's cool cousin Toby and must enroll in school just like every other kid. School presents new challenges to these rock stars, like dealing with peer pressure, school sports and of course, girls! By "girls" we mean the Chipettes who are managed by Ian Hawke, the Chipmunks greedy former manager who wants to turn them into the next big thing. At the outset, there is a rivalry between the Chipettes and The Chipmunks but in the end they realize that they make great friends and a great musical team!
Critic Reviews for Alvin and the Chipmunks: The Squeakquel
Audience Reviews for Alvin and the Chipmunks: The Squeakquel
½
There is not much to like about "the Squeakquel", other than the fact that your favourite chipmunks are back for another round. The idea is stale, but I had so much fun with the first one that I had to give a little credit to this very weak, but fun film. Alvin and the Chipmunks are actually overshadowed for a while by the new chipettes, which kind of dulls the film at points, but when they are on screen it's still a cute kids film. Still, I have to give it what I think it deserves overall, and the first one was much better, so this film falls directly in the middle of bad and good. There were portions that I enjoyed and was able to have some fun with, but others that just dragged on and made me hate it. This sequel was not worth making, but it's harmless!
½
The squeakquel to the boring crapfest that was the first Alvin and the Chipmunks is a major improvement. I can see believable brotherly love and chemistry in this film, in contrast to hyperactive, incredibly annoying and overall, plain bad role models in the first one. Better storyline and acting that can help parents get through the whole thing and hey, I think just maybe they'll like this one.
Directors Cat
Super Reviewer
½
Adding female version was just lame. And look, one of them was wearing glasses. Where and how the hell did that happened? First one was convincing and fun but this? Forget it. And Dave's yell was irritating. Liked the songs though.
Dead Angel
Super Reviewer
Alvin and the Chipmunks: The Squeakquel Quotes
| | |
| --- | --- |
| Brittany: | Hey Ian! In the words of the Donald " Ya fired!!! " . |
| Brittany: | Hey Ian! In the words of the Donald 'Ya fired!' |
| Brittany: | Hey Ian! In the words of the Donald, 'ya fired!' |
| Ian: | Alvin!!!!!! |
| Ian: | Alvin! |
| | |
| --- | --- |
| Brittany: | Alvin, Ian is taking us straight to the top! * falls off of lunch line * |
| Brittany: | Alvin, Ian is taking us straight to the top! [falls off of lunch line] |
| Alvin: | Right.......straight to the top......gotcha. |
| Alvin: | Right. Straight to the top... gotcha. |