Un Conte de Noël (A Christmas Tale)
(2008)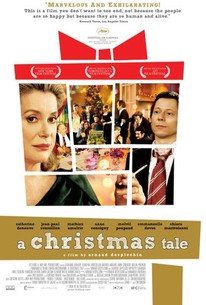 TOMATOMETER
AUDIENCE SCORE
Critic Consensus: A sharp black comedy about a chaotic family holiday gathering, A Christmas Tale is always involving, thanks to an impressive ensemble cast.
Un Conte de Noël (A Christmas Tale) Photos
Movie Info
The devastating reverberations of a profound tragedy echo through generations of a long-suffering French family in this emotional family drama from director Arnaud Desplechin. When Abel and his wife, Junon, started a family, it seemed like the seeds of true happiness had been planted. But while their daughter, Elizabeth, was healthy from the day she was born, things quickly turned dark when her brother Joseph was diagnosed with a rare and deadly genetic condition. Joseph's only hope for survival was a bone marrow transplant, but Abel, Junon, and Elizabeth were all incompatible. In one last, desperate chance to save their son's life, Abel and Junon conceived a third child. But not even little Henri could save his ailing brother's life. Joseph died at the age of seven, and neither his siblings nor his parents have ever found the strength to recover. Years later, family relations have deteriorated beyond the point of repair; the tensions between family matriarch Elizabeth and her cynical brother Henri finally culminating in a violent confrontation in which Elizabeth banishes her alcoholic brother and refuses him further contact with his troubled adolescent nephew, Paul. ~ Jason Buchanan, Rovi
Critic Reviews for Un Conte de Noël (A Christmas Tale)
Audience Reviews for Un Conte de Noël (A Christmas Tale)
Movie 22 is from the Criterion Collection, right away by being in the Criterion Collection you know the movie is going to be a little strange and it is, about a very dysfunctional family who reunites at Christmas time, Mom is sick with cancer and needs a marrow transplant and of course the hated son is the only compatible donor. If your into Indie films then you will enjoy this if your idea of a great film is something with Will Farrell in it (Elf) then this is not for you. 4 Stars
Bruce Bruce
Super Reviewer
This is a really well made film with an excellent cast. It is, however, extremely long at around 2 and a half hours, and while interesting, not a whole lot gets resolved. It kind of reminded me of "The family Stone", in French, and with less likeable characters. The people in this are all extremely flawed and it's a lot to sit there and try and understand some of the motivations. I must admit it did not drag out or feel over long despite it's length, and though I would have liked a few more answers to some things, perhaps it was just not important in the long run.
Nicki Marie
Super Reviewer
½
This movie is not for everyone. I'll put it this way, if you thought Magnolia was way too over the top and pretensious, then you will hate this movie from the first frame and should probably just turn it off because it doesn't slow down from it's manic pace one bit. Even to me, there are some stylistic choices that Arnaud Desplechian uses that I found myself rolling my eyes over, but what made me really enjoy this film was the acting and the writing, which I think are some the best I have seen this year. The entire cast is great and each one of them (even the naturalistic kids) give fantastic performances. It's like a Cassavettes film, but stylized and probably one of the most dysfuctional families ever put on film (they are dysfuctional to the point of being confusing in certain parts of the film). Again, not for everyone, but I liked it a lot and thought the ending was beautiful. It's like a soap opera on coke.
Un Conte de Noël (A Christmas Tale) Quotes
There are no approved quotes yet for this movie.