Ripple Effect
(2008)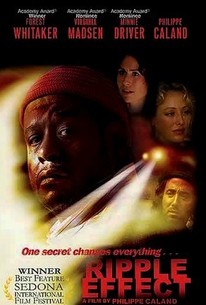 Movie Info
Philippe Caland directs and stars in this karmic drama about a hip, new age clothing designer from Lebanon who attempts to engineer redemption after realizing that a mistake from his past may have destroyed his entire future. Amer Atrash (Caland) is a first generation immigrant who's perpetually on the verge of the American Dream. But despite his repeated attempts to achieve financial success, it seems that complications always arise at the eleventh hour that set him directly back to square one. Now, after years of struggling, Amer is set to debut a cutting edge clothing line that could put him on top of the world. When the rug is pulled out from under Amer's feet once again, his efforts to hustle his way through the predicament ultimately amount to naught. Later, when Amer's wife Sherry (Virginia Madsen) admits that she's been feeling neglected and needs time to decide whether it's worth working to save their marriage, the dejected designer tells her a secret that he's never revealed to another living soul. Fifteen years earlier, Amer was involved in an accident that left a man named Phillip Blackman (Forest Whitaker) wheelchair bound. Could it be that all of Amer's current life problems somehow stem back to that one fateful night? Upon hearing Amer's story, Sherry encourages her husband to seek out Phillip and make amends. Later, after locating Phillip's beautiful wife Kitty (Minnie Driver), Amer begs for forgiveness by citing all the bad things that have happened to him since the accident. When Phillip and Amer set out on a journey designed to alter Amer's current state of mind and finally bring him nearer to enlightenment, the lives of both men are profoundly changed in ways that neither could have ever anticipated.
Critic Reviews for Ripple Effect
Audience Reviews for Ripple Effect
There are no featured audience reviews yet. Click the link below to see what others say about Ripple Effect!
Ripple Effect Quotes
There are no approved quotes yet for this movie.