Felon
(2008)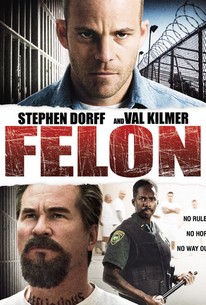 TOMATOMETER
AUDIENCE SCORE
Critic Consensus: Felon offers a rather hackneyed depiction of prison life, but is held together by a pleasantly complex plot and solid performances from Kilmer and Dorff.
Movie Info
A loving husband and father finds his promising future transformed into a waking nightmare when he's convicted of involuntary manslaughter after accidentally killing the burglar who broke into his home in this gritty prison drama starring Stephen Dorff and Val Kilmer. Wade Porter (Dorff) would have done anything to protect his family, and when they were threatened he did what any caring family man would have done. But somehow everything went wrong, and now Wade has been sentenced to spend three years in a maximum-security prison. It's a place where the rules of society have been all but forgotten, and in addition to sharing a cell with a notorious mass murderer (Kilmer), Wade somehow incurs the wrath of the sadistic head prison guard (Harold Perrineau). Now, in order to survive the series of vicious beatings orchestrated for the amusement of the guards, Wade realizes that in order to survive the block and get back to his family he will have to become the toughest felon of them all. But even if Wade does manage to live through this harrowing ordeal, what will be left of that loving family man once he's finally released back into civilized society?
Audience Reviews for Felon
A bit sappy, but the acting was better than expected.
Christian C
Super Reviewer
A construction worker accidentally kills an intruder in his home and finds himself incarcerated in a maximum security prison with a hardcore lifer who reluctantly teaches him the ins and outs of prison politics. On the surface, Felon is a typical gangbanger vs. skinhead/shower rape prison drama, but it is in fact surprisingly sophisticated. Stephen Dorff puts in a great performance as the "hero" who is not your usual "innocent man fighting an unjust system" from cliche and it shows in a believable way how a man who is decent at heart could become institutionalized. Val Kilmer is also excellent as his charismatic cell mate who knows that he will never be released and it shows prison not only from the point of view of the inmates, but also its effects on the guards and those left on the outside. It reminded me a little of Traffic for this reason and in a similar way frames its themes within a story that could be considered contrived, but its structure provides a solid framework that means it can avoid becoming desperately bleak and has a satisfying conclusion that doesn't get too schmaltzy. A real surprise for me and one of the best prison films I've seen in a long while.
½
A pleasant find, thought this was going to be a full on Action style film, with over the top performances, instead we have a pretty naturally acted, fairly realistic Prison Drama. A survivial of the fittest tale of man destined to serve his sentance, by unfortunate circumstance. Even Val Kilmer was better in this role than most. Steven Dorff is back on top with the performance in this film.
Lady D'arbanville
Super Reviewer
Felon Quotes
There are no approved quotes yet for this movie.