La Luna
(1979)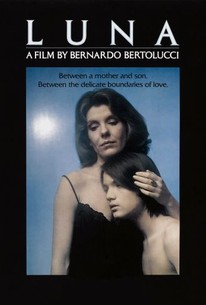 Movie Info
The tumultuous life of a troubled teen is examined in this controversial film from Bernardo Bertolucci. Joe, the boy in question, has been spoiled and is in dire need of a strong father figure. His stepfather Douglas, who believes that he sired the boy with his wife Caterina, an opera singer, is simply unable to deal with him. Joe continues to get in trouble. After he watches his despondent "father" commit suicide, the boy and his mother move to Italy where she tries to make a comeback. The boy soon finds himself involved with a bad crowd and becomes a heroin addict. His poor frazzled mother almost has a breakdown when she and her son almost become lovers. Before the end of the film, Joe finally gets to meet his real father, Giuseppi, who has been hiding in Italy and teaching children. It is he who saves the boy from descending further into a life of darkness and degradation.
Critic Reviews for La Luna
Audience Reviews for La Luna
Very long at over 2 hours, but is so beautifully done it does not out stay it's welcome. This film deals with very damaged people and it won't be for everyone as it does contain quite an unhealthy relationship between a mother and son. It is not done in an exploitative way, though, these are people who are in pain and maybe even temporarily crazy. I was very impressed with the young guy who plays the son. I was surprised after watching this that his career never went further. He plays vulnerability and distress beautifully. Jill Clayburgh as the mother is slightly over the top, but then so is her character, so I assume she was written that way. Well worth a look.
Nicki Marie
Super Reviewer
La Luna Quotes
There are no approved quotes yet for this movie.