Ca$h (Cash)
(2008)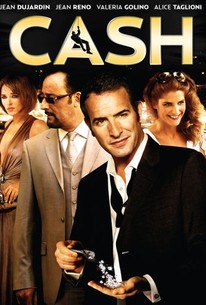 AUDIENCE SCORE
Critic Consensus: No consensus yet.
Movie Info
It's hard to tell the good guys from the bad guys in this slick, densely plotted thriller from France. Cash (Jean Dujardin) is a suave and well-mannered outlaw who specializes in grand-scale heists that turn on carefully constructed confidence games as much as muscle. When Cash's brother and partner in crime Solal (Clovis Cornillac) is killed by members of a rival outfit who try to force their way into a carefully planned heist, Cash assembles a new crew to rob the gunmen for their ill-gotten gains. Cash joins forces with Maxime Dubreuil (Jean Reno), a gifted veteran thief who brings along his beautiful protégé Garance (Alice Taglioni). As Cash, Maxime and Garance map out plans for the robbery of a lifetime, they're joined by Julia (Valeria Golino), a beautiful woman with a full compliment of criminal skills. But what they don't know is that Julia is actually an undercover police officer who is looking to shut down Cash's operation from the inside. Cash was written and directed by Eric Besnard; it was his second feature as director after establishing himself as one of France's leading screenwriters. ~ Mark Deming, Rovi
Critic Reviews for Ca$h (Cash)
Audience Reviews for Ca$h (Cash)
This French movie, directed by Eric Besnard, is something different from the French movies I like to watch. But I couldn't put it in a category of bad movies... it was like a French version of "Ocean's 11", showing off the beautiful French coast and stunning French women in equal proportions. "Cash" starts off easy, with a slick, handsome conman, Cash, who lays some bad fake money on a few gangsters, then moves on to fleece a rich art investor, as well as seduce his beautiful, shapely daughter, played by the ravishing Alice Taglioni. Once another group of swindlers enters the game, as well as a nosy policewoman, things get complicated -fast. This film has everything: luxurious seaside resorts, expensive European cars and dresses that somehow make the female body seem even more naked. Jean Reno in this film has a role of Maxime Dubreuil and he showed everyone why is he so popular with his natural acting. I think that it is a good film but for the wrong market. Europeans will definitely enjoy it more; Australian market is a little bit different. For me (I love French movies) this was just an average work of art, nothing special.
Ca$h (Cash) Quotes
There are no approved quotes yet for this movie.