The Last Sunset
(1961)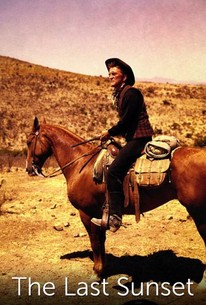 Movie Info
Scripted by Dalton Trumbo and directed by Robert Aldrich, this off-beat, almost eclectic film could be hailed as a thinking person's western. It is the dark cat-and-mouse tale of a sherrif's hunt for a philosophy-spouting criminal in the midst of a great cattle drive. The outlaw killed the sherrif's brother-in-law. During his flight, the outlaw pauses long enough to drop by the ranch where his former lover lives with her husband and 16-year-old daughter. While there, the rancher hires him to lead a cattle drive to Texas. The sheriff soon catches up, but he decides to help the killer with the drive before bringing him in. Along the way, the two men gain a grudging respect for one another. Also the sheriff begins to fall in love with the rancher's wife, while the crook finds himself drawn to her lovely daughter. The rancher ends up killed during the trip and this allows the romances to bloom until the widow tells the outlaw an awful secret about the young woman he loves. Grecian-style tragedy ensues.
Critic Reviews for The Last Sunset
Audience Reviews for The Last Sunset
½
Belle: To me, it always seems like it's the women who keep on living. Men kill or get killed and women bury them. We're professional survivors. Kirk Douglas plays a gunslinger Brendan O'Malley who runs into an old lover Belle Breckenridge (Dorothy Malone) while being pursued by Texas lawman Dana Stribling (Rock Hudson), a relentless sheriff who seeks revenge for the loss of his sister and brother-in-law. Meanwhile Belle has since re-married to alcoholic rancher, John Breckenridge (Joseph Cotten) who hires O'Malley on a grueling cattle drive to Texas. Sheriff Stribling decides to tag along to keep an eye on O'Malley but soon he too falls for O'Malley old love. Things become even more complicated when Belle's daughter Missy (Carol Lynley) begins to fall for O'Malley. Carol Linley does very well as Missy, making a great transition from gawky kid to radiant woman while Douglas is charming but ruthless and looks devilishly attractive dressed in all over black. It`s a typical western recommended for those macho guys who will enjoy the cattle drive, fist-fights, gunfights, run-ins with the Indians and outlaws, and there is a love story interwoven which us ladies would find fascinating.
½
Sunny western with very dark themes and good performances.
The Last Sunset Quotes
There are no approved quotes yet for this movie.