The Unborn
(2009)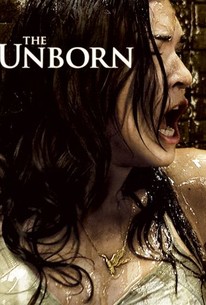 Movie Info
Casey Beldon hated her mother for leaving her as a child. But when inexplicable things start to happen, Casey begins to understand why she left. Plagued by merciless dreams and a tortured ghost that haunts her waking hours, she must turn to the only spiritual advisor, Sendak, who can make it stop. With Sendak's help, Casey uncovers the source of a family curse dating back to Nazi Germany--a creature with the ability to inhabit anyone or anything that is getting stronger with each possession. With the curse unleashed, her only chance at survival is to shut a doorway from beyond our world that has been pried open by someone who was never born.
News & Interviews for The Unborn
Critic Reviews for The Unborn
Audience Reviews for The Unborn
½
Yep, this one is pretty much a mess. I caught it on TV, so as I didn't pay any money to see it, I am probably inclined to be a little more generous than it deserves. A plot you could see coming a mile off. I mean, seriously, if you had a creepy ass kid telling you some devil child wants "to be born now", and multiple other scary going ons, you would think at very least you would abstain from sex with your boyfriend! Apparently not... There is a few scares and some yucky scenes, but it is pretty lame and tame stuff. Also, I don't know if it was the TV transmission or what, but the end scene seemed sped up, which made me feel like I was watching a video game instead of a movie! If you just want some dumb entertainment or a laugh, this is okay, but there is definitely much better horror films out there.
Nicki Marie
Super Reviewer
It was really bad - scary in some scenes. But Cam Gigadet gave this a full star.
Bethany Murphy
Super Reviewer
The Unborn has gotten a bad reputation in the Horror community. The film a decent entry in the Horror genre, but is definitely not the best. The film has some pretty good scares and the plot has enough decent elements to make this an average horror film. The film could have been a lot better, but taking inton account that this is a PG-13 film, this is fairly good entertainment. The Unborn is not a perfect film of course, but it's good enough compared to all those lame remakes that are coming out. This may not be too original, but the jolts are plentiful, and your most likely going to jump out of your seat a few times. Obviously one of the reasons that the film got such a bad rep is because of the fact that Michael Bay produced it. Even if he did, this one of the better horror films that he produced. The Unborn is good/ average entertainment, and is a type of horror film that shouldn't be dismissed too quickly. The biggest problem I had with the film is that I felt it rehashed a few old ideas explored in other horror films before it, and that some of the characters were not likeable. But it delivers a few good scares, and it deserves a little better praise than it originally had. Considering all the crap remakes, The Unborn isn't that bad. I found the film quite entertaining, even though not too good or original.