Forever Strong
(2008)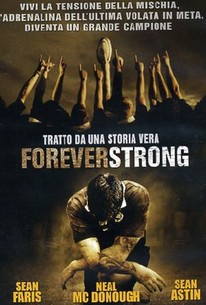 Movie Info
A talented but troubled high-school rugby star gets a second shot at redemption after being sentenced to serve time in a Salt Lake City boys' home and landing a coveted spot on the famed Highland High School rugby team in this inspirational sports drama from director Ryan Little (Saints and Soldiers, Everything You Want). Rick Penning (Sean Faris ) was the star player on his Arizona rugby team until his life took a turn for the worse. Now, after a fateful brush with the law, Rick finds himself out of the spotlight and forced to ponder the consequences of his actions in a Salt Lake City juvenile detention center. As fate would have it, however, Salt Lake's famed Highland High rugby team could use a player like Rick. With a little help from coach Larry Gelwix (Gary Cole), Rick may even be able to lead the Highland High team to the national championships. When Rick discovers that the team they'll be competing against is none other than his old team from Arizona, which is coached by his father, Richard Penning (Neal McDonough), the deciding game takes on a newfound sense of gravity in the eyes of the ambitious young athlete. Arielle Kebbel and Sean Astin co-star.
Critic Reviews for Forever Strong
Audience Reviews for Forever Strong
½
18/01/2012 (PS3, NETFLIX)
EightThirty .
Super Reviewer
It's a pretty decent film. There's a lot of cliches and the classic father-son relationship issue that we all see in sports films, but it wasn't too bad. Rick Penning had a pretty bad attitude for most of the film, but somehow I managed to like his character near the end. I like to see characters develop into a completely different one, and he definitely did. I felt like the video was sort of rushed. I didn't really get a good background on Rick until after the car accident. It was okay though. I'd most likely watch it again. :)
½
Cast: Gary Cole, Sean Faris, Neal McDonough, Sean Astin, Arielle Kebbel, Penn Badgley, Olesya Rulin, Julie Warner, Nathan West, Max Kasch Director: Ryan Little Summary: Rick (Sean Faris) is a star player on his dad's rugby team until a DUI lands him in a reformatory. While he's serving his sentence, tough rival coach Larry Gelwix (Gary Cole) allows him to play for his team, which helps Rick straighten up his act. Upon his release, however, Rick becomes a pariah to his former teammates and even his father when he refuses to divulge Gelwix's strategies. My Thoughts: "I am a complete sports film nerd. I love them, and probably rate them higher then what they actually deserve to a non-sports loving person. But I really enjoyed this one, and it's always better when the film is based on true events. It has good acting, an inspiring story, and a lot of heart. I am even more impressed that their is a coach out there like this. Coach Gelwix has some really great quotes in the film like, "I'm more interested in turning out champion boys than champion teams", and "I want you to be forever strong on the field so you will be forever strong off it". Other coaches should take note. Sean Faris is really good in the film. He goes through the motions like a pro. Rugby is a tough sport, kudos to those who play it. Great sports flick, see it if you like them, skip it if you don't. But it's a good story either way."
♥˩ƳИИ ƜѲѲƉƧ♥
Super Reviewer
Forever Strong Quotes
There are no approved quotes yet for this movie.