Seed
(2007)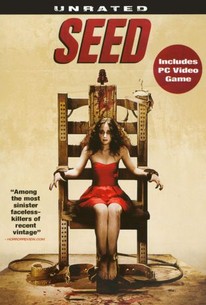 AUDIENCE SCORE
Critic Consensus: No consensus yet.
Movie Info
Based on an incident that allegedly took place in Seattle, WA, back in 1972, director Uwe Boll's Seed tells the twisted tale of a mass murderer who was buried alive after surviving the electric chair, and claws his way back to the surface in search of bloody revenge. According to U.S. law, any convict who somehow manages to survive three 15,000 volt jolts from the electric chair for 15 seconds is eligible to walk free. When notorious psychopath Sam Seed is strapped into the chair and asked for his last words, he simply replies by saying "I'll see you again." Later, after the electricity is sent surging through his veins and blood boils up through his eyeballs, Seed is still breathing. Realizing the dangers of letting such an unrepentant menace back on the streets, the executioner, Warden Wright, and the prison doctor conspire to skirt the law, and pronounce Seed dead. Subsequently bound and buried alive, the enraged Seed somehow manages to escape from his premature grave, and quickly sets out to prove just how alive he truly is.
Critic Reviews for Seed
All Critics (2) | Fresh (0) | Rotten (2)
One for extreme gore connoisseurs, a Uwe Boll special. It's so appalling that it's worthy of an eve's viewing.
Say what you will about Saw 3 and Hostel 2, but compared to this malignant wreck, those (yes, harsh and brutal) horror flicks have the subtext of Shakespeare and the moral compass of Superman.
Audience Reviews for Seed
Before I've ever watched Seed, I had never heard of Uwe Boll. Then I looked him up on a whim after buying the DVD. The rating on IMDB for Seed was a 2.0, so of course I was like oh shit, what getting into. But I watched it, and to my surprise, and enjoyed this film. The film is raw, gritty and in your face. I've seen many Uwe Boll films, most recently Rampage, and I'd say along with Rampage, this is his best film. Putting into terms that the Horror genre is suffering from teen oriented remakes and tween romantic horror (Twilight), Seed is a totally different approach for a horror film. And boy is it refreshing. Uwe Boll when he made this film was dubbed a year earlier as the worst director in history since Ed Wood, in fact he was deemed worst than Ed Wood. So, Seed was of course in part a statement. In this film he holds nothing back, and makes a picture acks the viewing. The opening scenes are thoroughly disturbing, and set the overall mood and atmosphere of the film. Max Seed is a mass murderer with 666 murders to his name, and he's about to be executed for his heinous crimes. The plot is almost lifted from Wes Craven's Shocker, but is presented in a totally different light. The execution goes wrong and Seed is buried alive, only to reawaken and start a killing spree against those responsible. Seed is a good effort from Boll, and I view it as very original and as a breath of fresh air in the stale climate of today's horror. Considering this was made by Uwe Boll, most will dismiss it, but you shouldn't. I believe that even the worst directors can make watchable films. Seed should be seeked out by horror fans that are tired of tween oriented remakes and want a raw and intense horror film. Seed has many tense kills, the hammer scene as well as the baby scene and the end are highlights of this depraved picture. Uwe Bolll finding his way, and this one proves it.
½
Shocker!! Boll actually makes a good film hehe and believe me this is a pretty evil f***er!! when I say good I mean its not the jumbled run of the mill cgi nonsense you usually see, its actually a very nasty thriller which is FAR FAR nastier than 'Hostel' or 'Saw' believe me!! This film is nasty in the fact it actually has real footage from PETA (they actually gave Boll real footage for money, so much for their principles) of animal cruelty! (not very nice atall folks Sad ) plus dubious footage of bodies decaying with many rumours of wether they are real or not, looked pretty real to me. One scene has the killer Seed kill a woman with a small hammer/axe by brutally smashing her head apart!! its not cut and its not soft, its full on and very very uneasy watching, this is the closest to a snuff film you will see I think. The plot isn't original....killer is executed but comes back from the grave and gets his revenge, pretty standard stuff, I haven't played the computer game so I don't know how it compares (don't wanna play it either after seeing this!) but as a film its a very competant horror and probably overlooked due to the content. Nothing special really just a very gruesome film that is probably Bolls best but ironically will never get seen by the masses cos its too far, my god even the ending is nasty with no good outlook atall!! I was stunned and depressed after seeing this I tell you, be warned. On the plus side it has all the usual regulars from all Bolls other films haha hurrah for Michael Paré.
Phil Hubbs
Super Reviewer
Just because you have the killer watching brutal real-life animal killings and you have the prolonged starvation death of an infant does not mean your movie is shocking. What it does mean is that you suck as a director and can only rely on cheap tactics rather than any kind of talent. Also it has one of the worst CG death sequences ever commited to film. Ever. Seriously.
A.D. Villarreal
Super Reviewer
Seed Quotes
There are no approved quotes yet for this movie.