Leaves of Grass
(2010)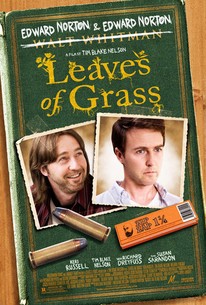 TOMATOMETER
AUDIENCE SCORE
Critic Consensus: Edward Norton delivers one of his finest performances in Leaves of Grass, but he's overpowered by the movie's many jarring tonal shifts.
Movie Info
When Ivy League classics professor Bill Kincaid receives news of the murder of his estranged identical twin brother, Brady in a pot deal gone bad, he leaves the world of Northeastern academia to travel back to his home state of Oklahoma. Upon arrival, he finds that reports of his brother's death are greatly exaggerated, and he's soon caught up in the dangerous and unpredictable world of drug commerce in the backwaters of the Southwest. In the process, he reconnects with his eccentric mother, meets a wise and educated young woman who has bypassed academia in favor of the gentler rhythms of life, and unwittingly helps his troubled brother settle a score with a pernicious drug lord who uses Tulsa's small Jewish community for cover.
Critic Reviews for Leaves of Grass
Audience Reviews for Leaves of Grass
½
Starts out as a silly comedy than takes a disastrous turn about an hour in and crashes and burns.
½
Very nearly an excellent movie: a by times funny Good Brother vs. Bad Brother story that plays into that famous Amercian trope: You Can't Go Home Again. Another project that I'd put on Edward Norton's recent Why-The-Heck-Did-You-Pick-This-One? List, but one in which he capably plays both twins - despite himself, he's remained a good actor. Where this one goes awry, I think, is in Tim Blake Nelson's desire to have it feel like a Coen Brothers film. The humour's dark, and the plot's all over the place, but the final third's zaniness kind of lost me... just in time for the predictable, cheesy love story ending. A film that's not quite sure what it wants to be, and one that's quite justly polarizing to critics and audiences alike.
Daniel Perry
Super Reviewer
Because of this film's mixture of wild, wacky characters, crime drama, stoner comedy, nutty plot, and philosophy, it would be understandable if you confused this with being a film made by the Coen Brothers. It's not, but its writer/director/co-star Tim Blake Nelson did work with the duo, so maybe that might account for the similarities. As a Coen clone (which I don't think it's trying to be, or should be labeled as), it's okay, but it fares better when looked at on it's own terms. Bill Kincaid (Edward Norton) is a professor of classical philosophy at Brown University whose career is at a crossroads. When he gets a call informing him that his estranged twin brother Brady- a goofy, redneck genius pot grower and seller (also played by Norton) has been murdered by a crossbow in a drug deal gone awry, he journeys home to Little Dixie , Oklahoma (the place he was happy to leave) to attend the funeral. When he gets there though, Bill discovers that he has been misinformed, and finds himself caught up in his brother's shenanigans which not only could put them both at risk, but could also finally help Bill discover what it truly means to be happy. Based on the concept and casting alone, I was hooked. This is a really fun, and funny movie. Nelson really knows the material well (He's from Tulsa and studied classical philosophy at Brown), so the film is actually pretty accurate, even if slightly exaggerated. The film may not be totally original (again, it's very Coenesque at times), but it's well played, and never boring. The plot does get kinda messy, and the tone is a little uneven at times (maybe the comedy should have been blacker), but all in all, this is a highly entertaining film that made me feel a little better about life and myself for having watched it. So yeah, there's some flaws, but what really saves the film is the awesome casting and terrific performances. Norton is a real delight here. He's never been a bad actor, but this gives him the tough challnege of trying to pull off two very different characters who spend a lot of time engaging with one another. Thankfully, he pulls it off nicely. Nelson gives himself the fun, but familiar role of Brady's best friend Bolger, who, like Brady, is a good old boy who loves pot, is a proud redneck, but a lot sharper than he seems. Susan Srandon has some fun as Bill and Brady's eccentric mother Daisy, and Melanie Lynskey seems to be enjoying herself as Brady's pregnant girlfriend/soon to be wife. She's good, but it would have been nice to see more of her. As a potential love interest for Bill we have Keri Russell as Janet- a free spiritied poet who loves to go noodling and recite Walt Whitman while gutting catfish. The love subplot between Janet and Bill is kinda one of the weaker parts of the film (it could have been done better), but it's not bad enough to sink the film. In a really small, but wonderfulyl odd role is the great Richard Dreyfuss as Pug Rothbaum- a menacing antagonist who threatens Brady's criminal enterprises. All in all, this is a weird, crazy mess, and it shouldn't really work, yet it somehow all does come together. It could be better, but for what it is, this is quite hilarious, a bit profound, and a real joy to watch. Give this one a look.
Chris Weber
Super Reviewer
Leaves of Grass Quotes
| | |
| --- | --- |
| Brady Kincaid: | You can't synthesize that. That is nature's delivery system for goodness. Distilled into a pure form. It glides down into your belly, and blooms into a feeling of peace. In this world beset by evil. |
| Brady Kincaid: | You can't synthesize that. That is nature?s delivery system for goodness. Distilled into a pure form. It glides down into your belly, and blooms into a feeling of peace. In this world beset by evil. |
| | |
| --- | --- |
| Brady Kincaid: | I was born just a few minutes before my brother, Brady. He lived life on his own terms, indifferent to fear - either his own, or those of others. And, let's be honest, by any normal measure my brother was a criminal and a colossal fuckup. |
| | |
| --- | --- |
| Daisy: | What's your aversion to proper grammar? |
| Brady Kincaid: | Rhythm maybe. |