Inheritance
(2006)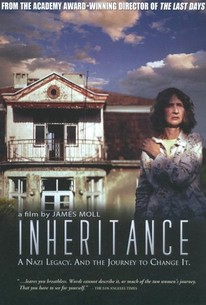 AUDIENCE SCORE
Critic Consensus: No consensus yet.
Movie Info
Amon Goeth was an SS offer in the German army during World War II who oversaw operations at a concentration camp in Plaszow, Poland. In 1946, Goeth was found guilty of murder of the thousands who were executed at Plaszow by a Polish tribunal, and he was executed for his crimes; he was survived by his wife and young daughter. After Goeth's death, his wife frequently told her daughter Monika that Goeth was the victim of a tremendous misunderstanding and he was a good and noble man at heart; when Monika began to learn the truth about her father's crimes, her mother committed suicide and Monika was forced to deal with her family's dark history on her own. In 2002, almost ten years after Ralph Fiennes delivered a fearsome performance as Amon Goeth in the film Schindler's List, Monika Herwig published a book in Germany about the memories of her father she grew up with and the truth she had to come to terms with; around the same time, documentary filmmaker James Moll came into contact with Helen Jonas-Rosenzweig, a surviving inmate of the Plaszow camp who worked as a servant in the Goeth family's quarters. Moll arranged for Monika and Helen to meet at the ground of the Plaszow camp for an interview, and Inheritance documents their conversation as Monika is confronted with her father's ugly legacy and Helen recalls the horrors she faced and the friends who did not survive. Inheritance was screened as part of the 2006 Los Angeles Film Festival.
Critic Reviews for Inheritance
Audience Reviews for Inheritance
½
As the single professional review here mentions, the movie is fairly simple. Monika Hertwig is the daughter of Amon Goeth, who was the commandant of a concentration camp in German-occupied Plaszow, Poland during World War 2. He oversaw the murders of thousands of people, mostly Jews, and was the guy who, infamously, went out on his villa and shot people from there. Monika was only 10 months old when her father was hanged and only knew about his crimes as a young adult. Basically the movie is her story to try to learn what had happened, or to at least finally truly accept what happened, by meeting one of the women that was enslaved, and abused, by Amon. The story is as much Helen's as it is Monika's but they, obviously, take two different paths. Helen agrees to meet Monika just so she can have closure during what was a particularly traumatic time in her life, as it was for many people and she achieves that closure by the end of the film. Monika, on the other hand, doesn't really get any closure because I think she was only able to put a face on the suffering the Jews went through only when meeting Helen and I don't think that their meeting really gave Monika any answers as to why her father did what she did and how her mother didn't do anything to help these women that "worked" for Amon. When you're the child of a person that committed horrible crimes against humanity, you really do have to live with that for the rest of your natural life. You may even face some discrimination even based on who your parents were, even if you had nothing to do and condemn their actions, so Monika's story is really sympathetic because no matter how much she tries to run from it, she will never be able to escape who her father was. And I think that the struggle to deal with the truth of what happened would have been even harder after her experiences with Helen because, as mentioned, she's only able to put a face on the suffering once she meets Helen. Either way, this is a really good and a moving documentary about this woman who's searching for the truth. Highly recommended.
Jesse Ortega
Super Reviewer
Inheritance Quotes
There are no approved quotes yet for this movie.