Gigantic
(2009)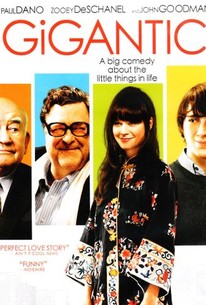 Movie Info
There Will Be Blood's Paul Dano stars as Brian, an unhappy mattress salesman whose infatuation with Happy (Zooey Deschanel), one of his attractive customers, temporarily pushes aside his obsession with adopting a Chinese baby in this unconventional romantic comedy from director Matt Aselton. John Goodman, Ed Asner, and Jane Alexander co-star in the Killer Films production.
News & Interviews for Gigantic
Critic Reviews for Gigantic
Audience Reviews for Gigantic
Daniel J DeMersseman
Super Reviewer
When it comes to family and relationships, there are no small surprises Good movie. This movie was really mellow and slow but it was kinda good. Paul Dano is evolving as a very good actor and I can't help but to like Zooey's weird funny acting roles including this one. Good story and easy to follow. Do we ever get what we want? Brian sells mattresses in a warehouse store. His father and older brothers have material success; he wants a child. He's applied to adopt a baby from China. A man who appears homeless seems to be stalking Brian with violent intent. He meets Happy, the daughter of a rich, quirky customer. She doesn't stick to anything, but she and Brian hit it off, except for her vomiting when she learns about his adoption idea. He wants her to meet his family, and there's a call about the adoption. What will Happy do?
A movie that seems to want to make a political or humanistic statement but over-quirks itself instead. Brian is quirkily shy; Happy is quirkily fucked-up (she even says so herself, and that always pisses me off in movies). Obviously, they should have sex. I dig the actors, and they're quite darling and sympathetic in this movie, but what exactly is this movie about? Fatherhood? Adoption? Government bureaucracy? Unconventional upbringings? There's much talk on IMDb about the "controversial" hobo attacker played by Zach Galifianakis (to great heebie jeebie extent, might I add), saying he's supposed to be a manifestation of Brian's fear of growing up, committing to a child perhaps, but as with the supernatural inconsistencies in Black Swan, other people seeing Brian's physical cuts and bruises = NO SENSE! Brian actually removing a bullet from his leg, implying that someone actually shot him = NO SENSE! If it's all in his head, he's crazy and shouldn't be adopting a child. If it's visible to other people because he's self-inflicting these wounds, he's crazy and shouldn't be adopting a child. Furthermore, the scary music that underscores all the attacks also tip this movie from the sweet indie drama genre into the thriller mind-fuck genre, yet there is no Shyamalan twist in the end at all.
Alice Shen
Super Reviewer
Gigantic Quotes
There are no approved quotes yet for this movie.