Middle of Nowhere
(2008)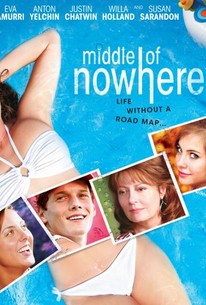 AUDIENCE SCORE
Critic Consensus: No consensus yet.
Movie Info
A seventeen year old screw up enters into a profitable partnership with a serious minded girl whose fiscally irresponsible mother may have just destroyed her chances of becoming a doctor in this romantic comedy starring Anton Yelchin, Eva Amurri, and Susan Sarandon. Dorian (Yelchin) is a rebellious teen from a wealthy background. Tired of bailing their son out of trouble time and again, Dorian's parents have finally decided to ship him off to live with his uncle for the summer. Once there, Dorian lands a job at a local water park and strikes up a friendship with the slightly older Grace (Amurri). The complete opposite of Dorian in everyway imaginable, Grace is a straight-A student who aspires to become a doctor, and who's spent the majority of the past six years looking after her little sister Taylor (Willa Holland) following their father's suicide. Grace's mother Rhonda (Sarandon) is a haggard force of nature who sees herself as a martyr for the sacrifices she's made to keep her family together after an earth-shaking tragedy, though in reality may have just cost Grace a future in medicine by taking out credit cards in the young girl's name and neglecting to make payments. In order to go to college Grace will need financial aid, but with numerous maxed out credit cards to her name that's next to impossible. Upon learning that she'll need to raise $12,000 in twelve weeks in order to cover tuition, Grace prepares to kiss her dreams for the future goodbye. Fate soon intervenes, however, when Dorian informs Grace that he's decided to deal pot in order to become financially independent from his parents. In order to turn a profit Dorian needs to expand his territory, and in order to expand his territory he'll need a car: Enter Grace. Realizing that she'll never make the money she needs working at the water park, Grace agrees to enter into a temporary partnership with Dorian. But while their business endeavor proves wildly profitable at first, things quickly start to unravel for the ambitious pot-dealers when Grace and Taylor discover a secret about their father's suicide, and Dorian summons the courage to tie up some loose ends from his distant past.
Critic Reviews for Middle of Nowhere
All Critics (2) | Fresh (2) | Rotten (0) | DVD (1)
It's a hit-or-miss affair, the kind of character study that shows flashes of promise between its narrative lulls. Thanks to its talented young actors, however, it's more hit than miss.
July 13, 2010 | Rating: 2.5/4
Audience Reviews for Middle of Nowhere
Not bad, though thought it might have been a little better. I think the main problem was the casting (aside from Susan Sarandon, who is excellent, though an unlike able character). I didn't really like the two leads, although the younger sister was not bad - I would have liked a little more of her story. The drugs angle felt a little tired, and done to death too, though, to be fair, this is from 2008, so it probably wasn't such a done theme as it is now.
Nicki Marie
Super Reviewer
½
Middle of Nowhere is an independent film and another example of a dark comedy that tries too hard to be funny. They had a weak storyline, but a very strong cast, and I felt it was a film that could have easily been a lot better. Dorian (Anton Yelchin) is a spoiled kid, who never had to work a day in his life. After yet another rebellious act against his parents, the seventeen year old is sent to live with his uncle for the summer. He starts working at the local water park, where he meets Grace (Eva Amurri), a girl who is his complete opposite. She is desperate to earn money for school and Dorian is looking to act out, so the two decide they can both achieve their goals by selling pot together. The story doesn't really make a whole lot of sense to me, because the characters are nothing like they describe themselves to be. Dorian is rich and only there for a couple of months, he doesn't need the money, so why take the risk? Grace, she's always had to be the mature one, taking charge of her family, but we don't see her do that at all. The film is definitely a bit strange, while at the same time being somewhat slow and predictable, but what makes it worth seeing is Anton Yelchin. The Russian born, former child actor, has such charisma and really thrives in roles like this. If you saw Charlie Bartlett, then you know exactly what I am talking about. Yelchin is on another level, outgoing, energetic, quick witted, he's the kid in this film, but as it would turn out, he's also the smartest one of all. Yelchin's personality is larger than life and he will completely draw you in, sadly, other than his performance, this film wasn't much of anything. The story is predictable, the humor is dry, and the rest of the cast really wasn't anything special.
Todd Smith
Super Reviewer
½
Cast: Susan Sarandon, Anton Yelchin, Eva Amurri, Justin Chatwin, Scott A. Martin, Jeanetta Arnette, Veronica Berry, Kenny Bordes, Willa Holland, Allen Boudreaux Director: John Stockwell Summary: Rebellious teenager Dorian (Anton Yelchin) and his serious new friend, Grace (Eva Amurri), go into business selling pot in this engaging indie drama. Dorian wants financial independence, and Grace needs funds for medical school after her mother (Susan Sarandon) screws up her finances. But when the business gets complicated, so do their lives, as both Grace and Dorian find themselves dealing with issues from the past. My Thoughts: "Not your typical teenage angst film. This one focuses much more on two young adults, one looking to escape his family the other her dysfunctional mother. There's still a bit of sex and drugs, but it's not your main focus. The movie has great acting, music, and a good story to boot. Definitely worth taking a look at."
♥˩ƳИИ ƜѲѲƉƧ♥
Super Reviewer
Middle of Nowhere Quotes
There are no approved quotes yet for this movie.