Anna
(1987)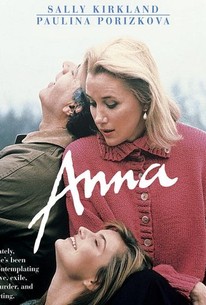 AUDIENCE SCORE
Critic Consensus: No consensus yet.
Movie Info
Anna's early scenes concentrate upon Czech refugee Krystyna (Paulina Porizkova), who arrives in New York in search of her idol, famed actress Anna (Sally Kirkland), who was denied reentry to her native country after the 1968 communist invasion. Unable to recapture her celebrity in New York, Anna is forced to go through a series of humiliating auditions conducted by insensitive directors who have no inkling who she is. She must also endure marriage to a self-involved music video director (Robert Fields). When Krystyna and Anna finally meet, each draws strength from the other, enabling both women to survive whatever indignities life has to offer.
Critic Reviews for Anna
All Critics (4) | Fresh (4) | Rotten (0)
Anna is a traditional, even predictable tale, but thoughtful direction, solid performances and snippets of originality make it into almost a very good film.
Sally Kirkland gives a commendable (Oscar-nominated) performance in this witty and cynical portrait of an aging foreign actress in N.Y., which bears slight resemblance to All About Eve
an incredibly thought-provoking documentary about the manifold ways in which politics and place can influence the soul.
Audience Reviews for Anna
½
A failing former actress from Czechoslovakia takes another Czech refugee under her wing, and the fledgling actress eclipses her mentor's success. The film's plot, similar to All about Eve, is not compelling by itself. What is interesting about the film is the portrayal of the acting world that Anna tries to navigate. The opening audition scene with actresses forced to tell personal sexual stories makes for great satire and sets up Anna's character well. Also, Paulina Porizkova, doe-eyed beauty that she is, is actually more charming and alluring than the similar character played by Anna Baxter in All about Eve. Sally Kirkland, however, plays the lead, and though her performance netted her an Oscar nod, an Independent Spirit Award, and a Golden Globe, I think it's remarkably uneven. The plot makes her go through hysterical breakdown after hysterical breakdown, and even if each of these is well-acted, there comes a point when Anna seems too unhinged. Kirkland doesn't build, and the film suffers as a result. Overall, Kirkland isn't as good as she could be, but parts of the film are well done, and I was introduced to the intriguing Porizkova.
Jim Hunter
Super Reviewer
Anna Quotes
There are no approved quotes yet for this movie.