Chamber of Horrors
(1966)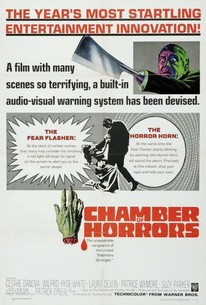 AUDIENCE SCORE
Critic Consensus: No consensus yet.
Chamber of Horrors Photos
Movie Info
This gory thriller, set in 19th-century Baltimore, begins when a psychopathic killer is forced to amputate his own hand to avoid execution. Soon, armed with a new hook, he sets out for revenge, but a pair of heroic wax-museum curators and their midget henchman are on his tail.
Critic Reviews for Chamber of Horrors
All Critics (1) | Fresh (1) | Rotten (0) | DVD (1)
Creates an engrossing tale of murder, revenge, and sleuthing with unusual participants, offering procedural elements and macabre ideas to secure interest in the ways of wax museum employees and the killer creep they're hunting down.
Audience Reviews for Chamber of Horrors
This film is from a Warner Home Video Horror Double Feature I picked up at Big Lots for $3.00. Its a very well put together film for the sixties. A special in film device called the fear flasher and the horror horn warns viewers to a upcoming bloody scene, it happens 3 or 4 times in the movie and then nothing happens, kind of a spoof I believe maybe for the drive in movies. Anyway the Baltimore butcher is on the loose and killing people, and unable to solve the murder the police turn to the owners of a wax museum to help solve the crime. We even have a Vincent Price want to be in this movie Patrick O'Neal. All in all a enjoyable 1960's movie, not like slasher films of 1970 -1990 that followed. About the best wax museum film out there 4 stars,
Bruce Bruce
Super Reviewer
½
Chamber of Horrors definitely isn't as horrific as its title implies. There's not a single drop of blood in the entire film and the only thing even remotely macabre about it is the wax sculptures on display (ALA House of Wax), but they really only serve as a backdrop to the story. An enormous amount of emphasis and screen time is spent dealing with these wax dummies, only to serve no purpose except to recreate someone's untimely end. I can't really say much more than that. Otherwise, I'd be spoiling the film... in a film that spoils itself. Whenever something heinous is about to occur, there is this weird red flash and a siren signaling to the audience that it's about to happen. It's a very William Castle sort of technique that just fails on every level. It was a gimmick cooked up by the producers when it was decided to shoot additional scenes (including a brief one with Tony Curtis) to beef up the running time and release it to theatres instead of on television, as originally planned. It's not a very good movie, but it does have a fair amount of character development that I found intriguing. That would be my only recommendation to watch it really. Another reason to watch the film, for television fans anyway, would be an early appearance by Wayne Rogers, who played Trapper John in the M*A*S*H TV series. The film is also directed by Hy Averback, who was the voice of the loudspeaker in M*A*S*H, so fans of that show should find something fun in that, at least.
Tim Salmons
Super Reviewer
Chamber of Horrors Quotes
There are no approved quotes yet for this movie.