An American Affair
(2009)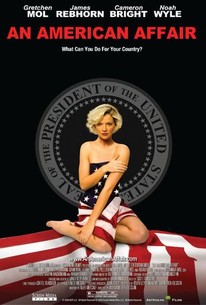 TOMATOMETER
AUDIENCE SCORE
Critic Consensus: With a plot both undercooked and cliche riddled, An American Affair unsuccessfully mixes a coming-of-age story and a presidential conspiracy thriller.
An American Affair Photos
Movie Info
Gretchen Mol and Cameron Bright star in director William Sten Olsson's period drama set in 1963, which details the friendship between a John F. Kennedy paramour and her 13-year-old neighbor.
News & Interviews for An American Affair
Critic Reviews for An American Affair
Audience Reviews for An American Affair
½
In "An American Affair," teenaged Adam(Cameron Bright) goes through several rites of passage in Washington, DC in 1963. The first is a fight with his best friend Jimmy(Jimmy Bellinger) when he chips a tooth. The second is spying Catherine(Gretchen Mol), an artist and his new neighbor across the way, not only smoking, but also half naked. So instead of listening as President Kennedy boldly proclaims his solidarity with jelly donuts everywhere, his attention is focused on her, as he also manages to get a job working on her garden. But then it turns out that he is not the only one with the same viewing habits... While covering some very familiar ground, "An American Affair" does have a couple of great moments. It also manages to get the mood right, especially around insular Georgetown, implying the details which allows for a certain level of creepiness to set in, not to mention a little erotic frisson. This works well with the movie being a coming of age tale, as Adam learns a lot about how the adult world works with their lies and myths. And I am more impressed with Mark Pellegrino's acting each time I see him in something. However, the Catholic school seems a little too integrated for the time and place, both racial and gender.(A friend of mine once pointed out that Washington, DC is a southern city.) And is that staircase the one I think it is?
A potboiler in which the Girl Next Door meets Conspiracy Theory. Catherine Caswell (Gretchen Mol), a Marilyn Monroe lookalike who is having an affair with JFK, grabs the attention of her school boy neighbor across the street, Adam Stafford (Cameron Bright). The friendship between the unlikely pair develops slowly and feels genuine. Adam is dealing with raging hormones and a natural curiosity, while Catherine is trying to balance political forces that are about to come crashing down on her and with repercussions that we still feel today. Noah Wylie and Perrey Reeves, as Adam's parents, are just self-absorbed enough to be clueless regarding Adam's conflicts, and annoying enough that we understand Adam's sense of helplessness in the face of grownup emotions and grownup problems. A coming of age story with dark, political overtones that this viewer found to be a rewarding film experience. The use of archival footage gave this fictional tale a sense of immediacy. The story is fairly straight-forward, without trying to disguise where it is inevitably heading, but it is not meant to be a mystery. The viewer begins to care for these two people who are helpless to escape the confines of their relative situations. Adam because of his youth, and Catherine because of her choices, are both the victims of their present circumstances. It didn't actually happen this way, but it certainly might have.
Mark Abell
Super Reviewer
An American Affair Quotes
There are no approved quotes yet for this movie.