April Showers
(2009)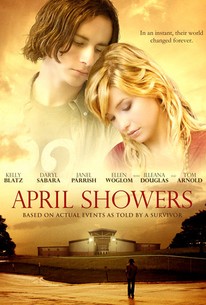 AUDIENCE SCORE
Critic Consensus: No consensus yet.
Movie Info
High school shooting survivor Sean Ryan (Kelly Blatz) and his fellow classmates strain to make sense of the tragedy that will haunt them for the rest of their lives in this intensely personal drama from writer/director, Andrew Robinson, a survivor of the Columbine High School massacre. Daryl Sabara, Kelly Blatz, Illeana Douglas, and Tom Arnold star.
Audience Reviews for April Showers
½
This movie had some good moments, but it was very sporadic in its attempt to mesh. Plus, there were a few scenes where I just could not make out what they were saying due to poor sound quality. ELEPHANT, tho a lower budget movie, was much better. I do respect the main characters true life struggle in dealing with the Columbine tragedy, however. I only wish they would have found a better way to portray it.
Cynthia S.
Super Reviewer
A compelling, indie drama with an interesting non-linear style of storytelling about a shooting at an average American high school. One fact of note here is that the writer and director of this film, Andrew Robinson, is himself a Columbine graduate and a survivor of the tragic 1999 shooting. Robinson's unique perspective lends a deeply personal and jarringly real quality to the film. This film is also no doubt a landmark in Robinson's own journey to cope in some way with the unfathomably traumatic event that happened to him ten years prior. The story focuses on the survivors of the shooting rather than on the shooter himself. After all, these were the people Robinson likely knew and understood best. The non-linear format allows us to escape the confines of the horrific event going on at the school that day and get to know the characters and their struggles. We get a glimpse at the unimaginable aftermath that these survivors, like Robinson, must now live and deal with. Much of the film centers around one survivor in particular, a boy named Sean. Sean is left to cope with the horror he witnesses that day as well as the loss of close friends. Something I personally connected with is the idea that you always think there will be more time. Sean's time with his friend April was cut short, and he was left with unfinished business that will never be truly resolved. I found this movie to be bold, emotional, captivating, awakening, and provokative. It's one I'd recommend, and one I won't soon forget.
April Showers Quotes
There are no approved quotes yet for this movie.