The Messenger
(2009)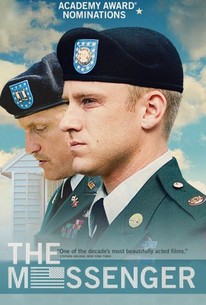 TOMATOMETER
AUDIENCE SCORE
Critic Consensus: A dark but timely subject is handled deftly by writer/directer Owen Moverman and superbly acted by Woody Harrleson and Ben Foster.
Movie Info
An Iraq War veteran who just narrowly escaped death in combat struggles with his new post at the Casualty Notification Office while anticipating his upcoming discharge in this military drama starring Ben Foster, Woody Harrelson, Jena Malone, and Samantha Morton. Will Montgomery (Foster) has spent his fair share of time in army hospitals, and with just three months to go before returning to civilian life, he discovers that his girlfriend back home (Malone) has decided to move on with her life. Crestfallen, Will discovers that his latest hope for a fresh start will be training to work for the Casualty Notification Office under the mentorship of senior officer Tony (Harrelson). As someone who had a close brush with death himself, Will isn't sure that he's the man to tell families that their own loved ones will never be coming home. Thankfully, in between his assignments, Tony offers a sympathetic ear and the two men form a bond that will ultimately help them to readjust to "normal" life. But once you've been in the thick of it, any true hope for a "normal" life after the military is just wishful thinking. Later, Will is drawn to the grieving widow (Morton) of a fallen soldier, a development that forces him to ponder the ethical dilemma of starting a relationship with a woman in such a vulnerable position. ~ Jason Buchanan, Rovi
News & Interviews for The Messenger
Critic Reviews for The Messenger
Audience Reviews for The Messenger
½
A decent character study whose main strength lies in two great performances by Foster and Harrelson, who shine in a sad story that deals with the psychological consequences of a terrible job, but the film also suffers from some tiresome pacing and unnecessary scenes.
Carlos Magalhães
Super Reviewer
½
We've seen countless war films about the battlefield, filled with graphic and shocking images that depict war as the ultimate hell on earth. Some of those films (Saving Private Ryan, Platoon) are incredible while others (Windtalkers, Pearl Harbor) are not. The Messenger is a film that doesn't concern itself with the battlefield. It is about the aftermath, when soldiers are employed to visit the families of those killed in action and give them the horrible news. It is an undoubtedly gripping picture, filled with moments of mourning, sadness, and insanity. The story is ultimately about grief that never goes away but has to nonetheless be overcome. Ben Foster, Woody Harrelson, and Samantha Morton give career defining performances. This film is an absolute masterpiece that portrays the "war is hell" theme in a way that truly has never been seen before in film.
Edward Boxler
Super Reviewer
½
More often than not, when a film that is a wartime drama gets released, it usually focuses on the battlefield, and the horrors of war. Not all, but many. This is one of the few that focuses on what hapens after all that, when the news that no one wants comes, and the men who are assigned to deliver it. Sometimes sad, sometimes bitter, sometimes even a bit funny, but definitely real, this is an excellent docudrama about Staff Sgt. Will Montgomery- a wounded veteran home from Iraq with three months left until his service is up. To finish out his time he is assigned to the Casualty Notification Office where he is sent out under the guidance of senior officer Capt. Tony Stone to notify family members of the deaths of their loved ones. The film focuses on this painful but necessary part of life, as well as the effect it has on both men, each with their own set of issues and the various ways they try to cope with them. At times this can be a very gut and heart wrenching film, and really awkward and uncomfortable, but it is presented in a respectful manner with characters that are very well developed and interesting. The script is very sharp, and the direction, as I said, gives it a feeling of realism that can be hard to endure, but never exploitative. Ben Foster once again proves he is a really talented person to watch, and he gives a fantastic performance filled with pain, emotion, and sympathy. Woody Harrelson shows that he can be brilliant no matter the size of the part he plays, or how much screen time he has. He brings an effective sense of weariness and experience to things. He and Foster have great chemistry together, and I'd love to see them work together again. Samantha Morton (whom I didn't recognize at first) is amazing as a widow who develops an odd rapport with Foster's character after he informs her that her husband has been killed overseas. Jena Malone takes what could have been a one note role ( Will's girlfriend who can't handle being with him anymore so she leaves him) and gives it more depth and substance. Steve Buscemi shines as one of several characters (like Morton's) who receive a visit from Stone and Montgomery and deals with it in a way that is very memorable and moving. This film avoids dealing with politics and the validity of war, and instead focuses on the people. It's a very moving indie drama that, as the directorial debut of screenwriter Oren Moverman, could be the start of a very great career for him as something other than a writer.You should definitely give this film a watch. It's quite compelling and kept me interested the whole way through.
Chris Weber
Super Reviewer
The Messenger Quotes
There are no approved quotes yet for this movie.