The Apartment
(1960)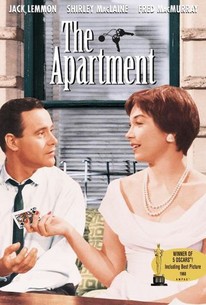 Movie Info
Widely regarded as a comedy in 1960, The Apartment seems more melancholy with each passing year. Jack Lemmon plays C.C. Baxter, a go-getting office worker who loans his tiny apartment to his philandering superiors for their romantic trysts. He runs into trouble when he finds himself sharing a girlfriend (Shirley MacLaine) with his callous boss (Fred MacMurray). Director/co-writer Billy Wilder claimed that the idea for The Apartment stemmed from a short scene in the 1945 romantic drama Brief Encounter in which the illicit lovers (Trevor Howard and Celia Johnson) arrange a rendezvous in a third person's apartment. Wilder was intrigued about what sort of person would willingly vacate his residence to allow virtual strangers a playing field for hanky panky. His answer to that question wound up winning 6 Academy Awards, including Best Picture, Best Director, and Best Original Screenplay. The Apartment was adapted by Neil Simon and Burt Bacharach into the 1969 Broadway musical Promises, Promises. ~ Hal Erickson, Rovi
Critic Reviews for The Apartment
Audience Reviews for The Apartment
A deeply involving dramatic romance with great dialogue and three-dimensional characters (even if the plot is a bit predictable), and it is quite a curious thing that this film is labeled by many as a comedy when in fact it is so melancholy and rather heavy in tone.
Carlos Magalhães
Super Reviewer
½
Along with Ernst Lubitsch's The Shop Around the Corner, Billy Wilder's 1960 Oscar-sweeper The Apartment elevates the workplace romance into a sublime erotics of officious addresses (the omnipresent Mister and Miss) and economic conundrum. In this film, actuary C.C. Baxter (Jack Lemmon) sleeps his way up the Consolidated Life ladder by proxy, as philandering execs use his 67th Street digs for scheduled romps. Meanwhile, Fran Kubelik (Shirley MacLaine), the elevator operator he chivalrously fancies, can't get personnel czar Sheldrake (Fred MacMurray) out of her mind. The triangulation keeps its edges with on-your-toes dialogue and a fine-tuned critique of corporate culture. Lemmon navigates the line between simpering and sympathetic with nervous WASP-ish energy. Most indelibly, MacLaine gives us a gamine with the whole gamut of emotions, a cursed capacity to love, and a limit to her own self-pity. As in Shop, Christmastime and suicide mingle, and the name "Kubelik" has the old-world ring of Kralik, Matuschek, et al.; Baxter's Jewish neighbors put him on the road from schnook to mensch (perhaps this is Wilder responding to the critique that he wasn't Jewish enough?). And Billy again pulls of his trademark feat of finding pathos in taboo subjects. He had a sign in his office that read, "How Would Lubitsch Do It?" and here that director's elusive touch hovers over the proceedings, lending a lightness to even the most mercenary transactions. A classic in the truest sense of the word.
Jonathan Hutchings
Super Reviewer
Lovely movie. Without knowing it from each other, C.C. and Fran are both jerked around by selfish and arrogant men. What I liked about it is that it doesn't turn into a sugary romantic movie, the characters stay true to themselves.
The Apartment Quotes
| | |
| --- | --- |
| Fran Kubelik: | I just have this talent for falling in love with the wrong guy in wrong place at the wrong time. |
| | |
| --- | --- |
| C.C. Baxter: | We never close at Buddy-boys! |
| | |
| --- | --- |
| C.C. Baxter: | It's not the Picasso I'm calling about, it's the key to my apartment. You're supposed to leave it under the mat. |
| Mr. Joe Dobisch: | But I did didn't I? I distinctly remember bending over and putting it there. |
| C.C. Baxter: | Oh, I found the key alright. Only it's the wrong key! |
| Mr. Joe Dobisch: | It is? Well how about that. No wonder I couldn't get into the executive washroom this morning. |
| C.C. Baxter: | And I couldn't get into my apartment! |
| | |
| --- | --- |
| Fran Kubelik: | What's the matter? |
| C.C. Baxter: | Eh. The mirror.. it's broken. |