The Ape
(1940)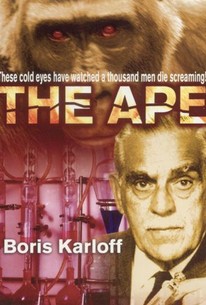 Movie Info
What begins as an honest effort at discovering a cure for polio, ends up becoming a frenzied quest costing innocent lives. When the good doctor Bernard Adrian (Boris Karloff) finds that the cure depends upon sizable amounts of serum found only in upper primate spinal columns, he goes a little overboard and kills an escaped circus ape and goes about murdering local folks to get the precious fluid. His mission is maddened because he has recently suffered the loss of his beloved daughter. Not one of Karloff's premier efforts, this one will probably please only his ardent admirers.
Critic Reviews for The Ape
Audience Reviews for The Ape
½
In small town America scientists and experiments are too be feared. Did Curt Siodmak actually write anything good? Despite his being such a well known horror movie writer I have yet to see it. The dialog and visual composition are completely mundane and uninspired. The story contains a random vile lawyer character whose involvement is left incomplete. Perhaps some footage is missing of him getting his dues in 1930's movie code fashion. The cheap digital transfer I watched did have tons of missing fragments of the film and audio track. A circus passes through town and a gorilla (man in a suit of course) escapes. The ape gets stabbed a couple times and shot. Is it dead or alive? Paralyzed Frances (Wrixon) and mechanic Danny (O'Donnell) are young sweethearts. Dr. Adrian (Karloff) cares for Frances and wants to allow her to walk again. A sheriff leads a posse of bumpkins to track the gorilla and hound the suspicious doctor. The twist ending is preposterous.
Byron Brubaker
Super Reviewer
½
Boris Karloff is a kindhearted but unethical doctor trying to cure paralysis, and there's also an escaped circus ape running around killing people, and the two plotlines collide in a stupid way. Karloff can't save this ridiculous yet dull film, as the part makes him so likable he doesn't get the chance to do what he does best.
½
Karloff is his usual standout but despite certain interesting touches the film is quite bad. It's interesting how much it mirrors the far, far superior "The Body Snatcher", however, which features my favorite of Mr. Pratt's performances.
The Ape Quotes
There are no approved quotes yet for this movie.