Outrage
(2009)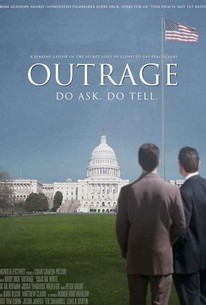 TOMATOMETER
AUDIENCE SCORE
Critic Consensus: Outrage walks a difficult moral and ethical line -- and not always successfully -- but despite its flaws, it's a fascinating, provocative look at homosexuality in American politics.
Movie Info
Kirby Dick, the Academy Award-nominated director of This Film Is Not Yet Rated, exposes the hypocrisy of closeted politicians who actively campaign against the very community they secretly belong to. Some of the most influential policy-makers in the United States are gay, but you wouldn't know it to look at their voting records -- despite being members of the LGBT community, many closeted politicians actually vote against the proposals designed to give that community equal rights. In speaking with such members of the gay community as U.S. representatives Tammy Baldwin and Barney Frank, as well as radio personality Michelangelo Signorile, activist Larry Kramer, and former N.J. governor Jim McGreevey, Dick is able to explore the complexities of leading a double lifestyle, as well as highlight the double standards of a media that has become obsessed with covering the sex lives of gay public figures.
News & Interviews for Outrage
Critic Reviews for Outrage
Audience Reviews for Outrage
Interesting, but sadly, not compelling. This should have been a better documentary.
Christian C
Super Reviewer
Rides a weird line between being revenge flick fun and totally inappropriate. Ultimately it's hard not to side with the filmmakers, who don't think you should get to privately embrace the culture and people who you publicly decry and campaign against.
I agree with the documentary "Outrage" that we all need to live our lives as openly as possible, especially those we love, whether we are ordinary citizens, in the armed forces or politicians. However, I do not agree with the film that there is any conspiracy on behalf of closeted politicians. For example, when Ken Mehlman's name was removed from a rebroadcast of Larry King, it was probably for the simple reason that somebody was afraid of being sued. The focus of "Outrage" is on Michael Rogers, an activist who writes for the website www.blogactive.com, specializing in outing closeted politicians who may be voting against gay rights to cover their own tracks. He researches, gets proof and facts, instead of exploiting innuendo and rumor in the bad old days of the McCarthy Era. The documentary does not make a very compelling case, however, as many of these politicians are conservative Republicans who are probably simply pandering to their voter bases. Can you tell me that Larry Craig would vote any differently than any other Idaho Republican? The one good case that the film makes is in the instance of Florida Governor Charlie Crist who has amassed a lengthy anti-gay record in a moderate state. In the case of former New York City Mayor Ed Koch, if he is gay, it would have been huge if he had been out of the closet at the time(1977-1989) but it should also be remembered that he was generally more conservative as mayor than congressman, as he had to appeal to a more diverse electorate than just his previous liberal base. While he has been very private about his personal life, he has also been very proudly Jewish(using a quote from Daniel Pearl on his tombstone) which is hypocritical because you do not get to pick and choose about this kind of thing. Regardless, some of the voices against him just seem to be reliving old grudges. In the end, "Outrage" errs by saying activism is born solely from anger. Compassion is just as necessary.
Outrage Quotes
There are no approved quotes yet for this movie.