Bakjwi (Thirst)
(2009)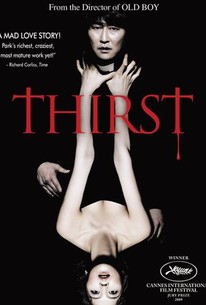 TOMATOMETER
AUDIENCE SCORE
Critic Consensus: The stylish Thirst packs plenty of bloody thrills to satisfy fans of both vampire films and director Chan Wook Park.
Movie Info
Song Kang-ho, Shin Ha-kyun, and Kim Ok-bin star in Oldboy director Park Chan-wook's frightener concerning a priest whose life takes a turn for the worst after he participates in a medical experiment to find a cure for a deadly disease.
Critic Reviews for Bakjwi (Thirst)
Audience Reviews for Bakjwi (Thirst)
½
Although somewhat irregular and overlong, this is a wonderfully stylish, well-directed and bloody vampire Korean film whose pitch-black humor contributes to set a hysterical, hugely bizarre tone in Park's surreal gore fest, with Kim Ok-bin in a priceless performance.
Carlos Magalhães
Super Reviewer
½
[img]http://images.rottentomatoes.com/images/user/icons/icon14.gif[/img]
Directors Cat
Super Reviewer
½
Oh what could have been! In "Thirst" you have a great idea; that of a priest who, while trying to help mankind by participating in a vaccine trial that could save millions of lives, ends up with that tainted blood we all know so well. The moral implications are juicy - a man of God wrestling with the bloodthirsty (literally, he he he) beast now residing inside him - what a film this could be. Sadly, the moralistic aspects of this tale get thrown by the wayside less than halfway through as the film dissolves into a bloody mess (again, literally). This Korean entry certainly has an odd style going for it, and for a time it works in a very linear and matter of fact way. Director Chan Wook Park has no qualms about showering us in torrents of blood as well as the more mundane human rituals, including farting and relieving oneself - stuff that served no purpose in the film and frankly I could have done without. I was astounded at the amount of detail and time spent on things that didn't matter, while glossing over or simply blithely ignoring some pretty severe plot holes. The film seems to totally miss the point it was initially trying to make, as absurd sequence follows absurd sequence, so by the time you get to the ultimate scenes you almost laugh instead of taking it seriously. Any moral message has by this time become so buried by pointless scenes and a lack of cinematic focus that all sense of poignancy is lost. The film is just so uneven, even in its CGI. There are some seamless bits where boils and pustules slowly vanish; vanquished by the vampire blood - but then there are some truly awful Crouching Tiger imitation jumping scenes that are truly laughable, and truly add nothing to the tale - really, this uber strong vampire thing once again glosses over the real meat of the matter - that in order to survive, a vampire requires the blood of the species he used to be. That should have been the focus here, along with how a priest slowly loses his battle with the beast within - suffering a loss of faith in the bargain - a metaphorical gem just waiting to be mined - but not in this film.
paul sandberg
Super Reviewer
Bakjwi (Thirst) Quotes
| | |
| --- | --- |
| Sang-Hyun: | Grant me the following in the name of our Lord Jesus Christ. Like a leper rotting in flesh, let all avoid me. Like a cripple without limbs, let me not move freely. Remove my cheeks, tht tears may not roll down them. Crush my lips and tongue, that I may not sin with them. Pull out my nails, that I may not grasp nothing. Let my shoulders and back be bent, that I may carry nothing. Like a man with tumor in the head let me lack judgment. Ravage my body sworn to chastity leave me with no pride, and have me live in shame. Let no one pray for me. But only the grace of the Lord Jesus Christ have mercy on me. |