Vengeance (Fuk sau)
(2010)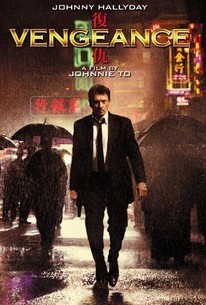 Vengeance (Fuk sau) Photos
Movie Info
A former assassin, now a French chef, comes to Hong Kong to avenge his daughter whose family was murdered.
News & Interviews for Vengeance (Fuk sau)
Critic Reviews for Vengeance (Fuk sau)
Audience Reviews for Vengeance (Fuk sau)
½
[img]http://images.rottentomatoes.com/images/user/icons/icon14.gif[/img]
Directors Cat
Super Reviewer
Apparently Johnnie To is a big deal, but this is the first I've ever heard of him or his work. All I really knew about this was that Ebert gave it a rave review, and it sounded kind of intriguing. Well, now that I've seen it, I can say that I think Ebert was wrong. What we get here is the story of a French chef and former assassin with a failing memory who travels to Hong Kong and Macau to avenge the murders of his daughter's family with the help of a few hitmen he meets along the way. It's a typical revenge film, but also has a lot of artistry to it. Problem is, it's just a run of the mill genre exercise that also happens to be pretty slow and boring, and not really that engaging. I didn't really care for the characters or what was happening, but at least the film looks nice, has some well executed action setpieces, and some striking violence. That's pretty much it though. It was kinda disappointing on several levels, but it also doesn't help that I recently watched 2/3 of "The Vengeance Trilogy", and was far more impressed by those than I was by this ho-hum actioner with distracting accents and dubbing, and all around inconsistencies in the sound department.
Chris Weber
Super Reviewer
A French restaurateur travels to China and enlists the help of a trio of guns for hire to track down the killers who murdered his daughter's family. Johnny To once again employs his elegantly understated direction and visual flair to create a HK style gangster movie from the classic "heroic bloodshed" school. It lifts elements from many sources, particularly a laconic anti-hero very much in the vein of Takeshi Kitano, bloody Peckinpah-esque shoot-outs and even a Memento style plot device to create a film that may not be original but oozes style in a similar way to Chan Wook Park's own Vengeance trilogy. Highlights include some brilliantly orchestrated action sequences, the pick of which being a beautiful looking running gun battle through a moonlit forest that's almost reminiscent of Zhang Yimou's poetic martial arts films. It could be accused of style over substance, but the style is beautiful and the result is something akin to a classic John Woo gangster film with all the cheesy sentimentality that marred them wisely removed.
Vengeance (Fuk sau) Quotes
There are no approved quotes yet for this movie.