Blood: The Last Vampire
(2009)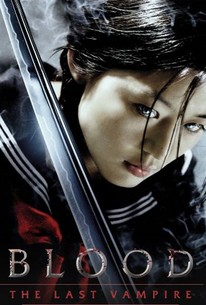 TOMATOMETER
AUDIENCE SCORE
Critic Consensus: Based on a classic anime series, Blood: The Last Vampire is a tedious, shoddily acted, amateurish picture that loses all charm in the transition to live-action.
Blood: The Last Vampire Photos
Movie Info
On the surface, Saya is a stunning 16-year old girl, but that youthful exterior hides the tormented soul of a 400 year-old "halfling". Born to a human father and a vampire mother, she has for centuries been a loner, obsessed with using her samurai skills to rid the world of vampires, all the while knowing that she herself can survive only on blood like those she hunts. When she is sent to an American military base in Tokyo by the clandestine organization for whom she works, Saya immediately senses that this may be her opportunity to finally destroy Onigen, the evil patriarch of all vampires. Using her superhuman strength and her sword, she begins to rid the base of its evil infestation in a series of spectacular and elaborate showdowns. However, it is not until she forms her first human friendship in centuries with the young daughter of the base's general that Saya learns her greatest power over Onigen may well be her ability to make a human connection.
Critic Reviews for Blood: The Last Vampire
Audience Reviews for Blood: The Last Vampire
½
This was a really good attempt at a very cool story. The fight scenes were really quite fun to watch. The girl that played Saya did a bang-up job. The computer generated scenes could have been better, and the scenes with the flying demoms made me kind of snicker. I have to say, the entire time that I was watching this movie I kept thinking to myself that if a kick-butt producer/director got a hold of this story it could be awesome. Let's hope that happens someday. But, until then, this attempt was not too shabby
Cynthia S.
Super Reviewer
½
A warrior vampire in 1970s Japan finally tracks down the demon who murdered her father she has been seeking for hundreds of years. Obviously trying very hard to trade on the popularity of Crouching Tiger and its ilk, Blood: The Last Vampire actually feels far more like Blade or Underworld than the nouveau martial arts films of Ang Lee or his contemporaries. In fact it has more than a little of the Buffy the Vampire Slayers about it, as a high school girl dons a school uniform and sets about chopping up vampire-like monsters in some gaudily shot, over-directed action scenes mixed with some rather ham fisted melodrama. Every part of the film is very derivative, and the plot doesn't really hang together; the ending in particular is very unsatisfying. It does have a couple of decent action sequences, but it's a bit too gimmicky, a bit too messy and a bit too cheap looking to stand out in a hugely overpopulated market place.
½
I liked the fight scenes. Trying to figure out who was the bad guys and who was the good guys was quite difficult. Maybe if I watch it three times.
Blood: The Last Vampire Quotes
There are no approved quotes yet for this movie.