April Fool's Day
(1986)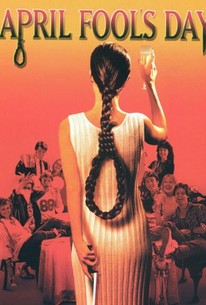 Movie Info
Any slasher movie with a title like April Fool's Day would have to be a spoof, and this one fits that niche perfectly. Eight college chums are invited to a weekend April Fool's party held by their mutual friend Deborah Foreman. En route, the eight friends are victimized by a practical joker, leading them to expect more of the same at the party. But things take a grisly turn when "fun and games" segues into murder. At least, that's what seems to happen. While it's refreshing to see the "Ten Little Indians" routine being played out with squirting flowers and whoopee cushions rather than knives and arsenic, April Fool's Day makes its point far too early in the proceedings, then has no place to go. Kudos, however, for the spiritied Canadian cast, including Leah King Pinsent, daughter of veteran actor/director Gordon Pinsent.
Critic Reviews for April Fool's Day
Audience Reviews for April Fool's Day
This film has been, at least partially, lauded for being innovative and alternative in comparison to the slasher genre schlock that permeated the eighties. Because it involves twists, dark humor, and a plot that revolves around a mystery, critics have claimed that it's not as mindless as others in this sub-genre. This is where I disagree, as I believe its subtleties and macabre humor make it that much more boring and safe. The deaths never happen onscreen, there's very little gore, the prosthetics look utterly fake, and the mystery isn't good enough to warrant an entire film. This is the most uncreative, run of the mill horror film that I have ever seen, looking less horrific with every minute it devotes onscreen. If you're really clamoring for a holiday themed horror film I suggest you look elsewhere.
Spencer S.
Super Reviewer
½
April Fool's Day is a fairly decent Slasher film. The concept of the film is of course set around the day itself. I liked the idea of this film, but like with every other Slasher film, April Fool's Day copies the trend of many films that came before it. April Fool's is a fairly interesting idea that unfortunately due to its predictability doesn't really stand out among other slasher. In fact, I'd say that this is one of the weaker slasher films. The film could have been a good Slasher, but it doesn't really do anything with the ideas presented on screen. April Fool's Day is a fairly forgettable Slasher film, and it may actually frustrate die hard fans of the genre. I know when I watched this, I certainly was. The ending really disappointed me, and it really was a shame because everything about this film was good, right up until the end. April Fool's Day is a so-so horror film that once you know what really is going, has nothing really that good to offer. April Fool's Day is for me, anyway, a missed opportunity to really deliver something great. Even though the film manages to be different, it's nothing special. Die hard fans of the Slasher genre may be disappointed with this one, so keep your expectations low. There are a few good moments to be had with this film, but as a whole, it's never anything spectacular.
This movie is so bad, it's awesome! I loved this silly horror movie taking place around April Fool's Day! It has some great horror scenes, the actors are cheesy, and the story has a lot of twists.
April Fool's Day Quotes
| | |
| --- | --- |
| Kit: | It's not Muffy, it's her twin sister Buffy!! |
| Kit: | It's not Muffy, it's her twin sister Buffy! |