Lonesome
(1928)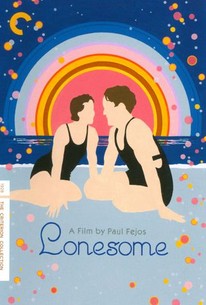 Movie Info
Two lonely people discover short-lived happiness in this silent drama. Jim (Glenn Tryon) and Mary (Barbara Kent) live in the same rooming house in New York City, though they've never met; Jim works in a metal fabricating plant, and Mary runs a switchboard for the telephone company. While both have friends, they both long for something more in their lives. One afternoon, Jim decides to go to Coney Island to see the famous amusement park, and on the bus he spies Mary. Jim finds her attractive, and eventually works up the nerve to introduce himself on the beach. The two discover they share a mutual attraction, and over the course of the day Jim and Mary fall in love, while a visit to a fortune teller suggests to Mary that she's met the man who will become her husband. However, Jim and Mary are separated, and despite their best efforts the two don't know how to find one another again. Lonesome was released in 1929, as silent films were giving way to talking pictures; the picture was originally released silent, though it was soon reissued in a version with sound sequences.
Critic Reviews for Lonesome
Audience Reviews for Lonesome
The plot is simple: A boy and girl (both "working stiffs") find innocent love at an amusement park, only to have their new romance threatened by casual circumstance. Nothing too interesting there. What is interesting is Paul Fejos's amazing, shoot-the-works direction, which includes dizzy editing, lots of multiple-image layering and even a splash of color (in 1928!). Definitely a film ahead of its time. The release year is also crucial because this was the transitional period between silents and talkies, thus there are three sound scenes of dialogue squeezed into the action. Some film buffs will say these are unwanted and awkward, but no real harm is done and some necessary plotting is delivered. A magical film, breezing by in under 70 minutes. Why is "Lonesome" so poorly known today?
Eric Broome
Super Reviewer
Lonesome Quotes
There are no approved quotes yet for this movie.