Around the World in 80 Days
(1956)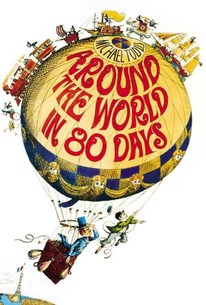 TOMATOMETER
AUDIENCE SCORE
Critic Consensus: It's undeniably shallow, but its cheerful lack of pretense -- as well as its grand scale and star-stuffed cast -- help make Around the World in 80 Days charmingly light-hearted entertainment.
Around the World in 80 Days Photos
Movie Info
Razzle-dazzle showman Michael Todd hocked everything he had to make this spectacular presentation of Jules Verne's 1872 novel Around the World in 80 Days, the second film to be lensed in the wide-screen Todd-AO production. Nearly as fascinating as the finished product are the many in-production anecdotes concerning Todd's efforts to pull the wool over the eyes of local authorities in order to cadge the film's round-the-world location shots--not to mention the wheeling and dealing to convince over forty top celebrities to appear in cameo roles. David Niven heads the huge cast as ultra-precise, supremely punctual Phileas Fogg, who places a 20,000-pound wager with several fellow members of London Reform Club, insisting that he can go around the world in eighty days (this, remember, is 1872). Together with his resourceful valet Passepartout (Cantinflas), Fogg sets out on his world-girdling journey from Paris via balloon. Meanwhile, suspicion grows that Fogg has stolen his 20,000 pounds from Bank of England. Diligent Inspector Fix (Robert Newton) is sent out by the bank's president (Robert Morley) to bring Fogg to justice. Hopscotching around the globe, Fogg pauses in Spain, where Passepartout engages in a comic bullfight (a specialty of Cantinflas). In India, Fogg and Passepartout rescue young widow Princess Aouda (Shirley MacLaine, in her third film) from being forced into committing suicide so that she may join her late husband. The threesome visit Hong Kong, Japan, San Francisco, and the Wild West. Only hours short of winning his wager, Fogg is arrested by the diligent Inspector Fixx. Though exonerated of the bank robbery charges, he has lost everything--except the love of the winsome Aouda. But salvation is at hand when Passepartout discovers that, by crossing the International Date Line, there's still time to reach the Reform Club. Will they make it? See for yourself. Among the film's 46 guest stars, the most memorable include Marlene Dietrich, Charles Boyer, Jose Greco, Frank Sinatra, Peter Lorre, Red Skelton, Buster Keaton, John Mills, and Beatrice Lillie. All were paid in barter--Ronald Colman did his brief bit for a new car. Newscaster Edward R. Murrow provides opening narration, and there's a tantalizing clip from Georges Méliès' A Trip to the Moon (1902). Offering a little something for everyone, Around the World in 80 Days is nothing less than an extravaganza, and it won 5 Oscars, including Best Picture and Best Cinematography.
News & Interviews for Around the World in 80 Days
Critic Reviews for Around the World in 80 Days
Audience Reviews for Around the World in 80 Days
There's no other way to say it. Around the World in 80s Days is nothing more than a bland travelogue. What must've seemed like a grandiose marvel in 1956 doesn't translate to the modern era. Our technologically advanced age makes this once epic period piece seem like an old dated relic. It still has value. Anthropologists should study this as a faded artifact of a bygone era. How this film won the Academy Award for Best Picture must certainly be one of the great anomalies in the Academy's illustrious history. Now reflect on the fact that it beat The King and I, The Ten Commandments and Giant and the win seems even more egregious. But the accolades didn't stop there. It snagged 5 Academy Awards out of its 8 nominations. The mind boggles. The only one it seems remotely worthy of consideration was for Best Cinematography and I would still argue it was up against stiffer competition. David Niven and Cantinflas make an entertaining duo. I liked them and the cinematography is pleasant. Oh and then there's that animated end credits sequence titled "Who was seen in what scene...and who did what" created by Saul Bass. The whimsical cartoon is most delightful thing in the whole production. fastfilmreviews.com
Mark Hobin
Super Reviewer
½
How this won Best Picture (beating out Giant, Friendly Persuasion, The Ten Commandments, and The King and I, and The Searchers (which wasn't even nominated) is beyond me. This is a big, epic adaptation of the classic Jules Verne story of an archetypical Englishman who makes a bet he can travel across the entire world in only 80 days. As an event, sure, yeah, this was probably quite a fun spectacle to see back in 1956. Today though, this is just an overlong, kinda boring cameo fest with rather blah acting, and little sense of real adventure and excitement. I guess for people who at the time weren't used to seeing exotic places were wowed by what this film offers, but today it's just an unspectacular and dated travelogue. Don't get me wrong, there are some things I liked. The music is decent, if a little repetitive, the end title credit sequence by Saul Bass is really cool, some of the cameos are fun (SInatra, Carradine, Keaton, Dietrich), and Cantinflas is admittedly an absolute scene stealing joyt to watch, but Niven didn't stand out for me as a wonderful lead, and Shirely MacLaine ,though I like her and understood that she did this film near the beginning of her career, really feels out of place. The cinematography is quite excellent though, and the locations do look nice (though idealized), but overall, this is just another one of those Best Picture winners that really didn't deserve it.
Chris Weber
Super Reviewer
½
This movie is incredibly long, and has many boring scenes with old guys sitting around talking, which got on my nerves. On the other hand the cast is good, and the story is a classic. Overall it's interesting, but it could be better.
Around the World in 80 Days Quotes
There are no approved quotes yet for this movie.