Tell-Tale (Tell Tale)
(2010)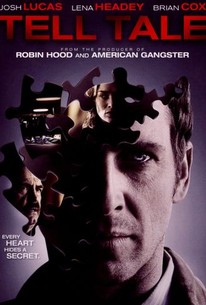 AUDIENCE SCORE
Critic Consensus: No consensus yet.
Tell-Tale (Tell Tale) Photos
Movie Info
Josh Lucas stars as a man whose heart transplant leads him on a frenzied journey to find the killer of his heart's previous owner before its past catches up to him in this retooling of Edgar Allan Poe's classic tale. Directors Tony and Ridley Scott produce the Scott Free production being helmed by cable TV veteran Michael Cuesta.
Critic Reviews for Tell-Tale (Tell Tale)
All Critics (2) | Fresh (2) | Rotten (0) | DVD (1)
... a modern updating of Poe's canonical short story "The Tell-Tale Heart" - is an ingenious step up from the usual genre suspects... Possibly Josh Lucas' best performance to date,
Edgar Allan Poe would be intrigued - if not outright proud - of Tell Tale
Audience Reviews for Tell-Tale (Tell Tale)
½
In "Tell-Tale," it has been five months since Terry(Josh Lucas) has received a heart transplant. He has been recovering nicely, following doctor's orders by taking his medications and not drinking alcohol. However, Liz(Lena Headey), the cute doctor who has been treating his daughter Angie's(Beatrice Miller) genetic disorder, inadvertantly threatens that by raising his blood pressure all on her own. She's not the only person who gets his heart pumping, as he has visions of Kevin(Jamie Harrold), a paramedic. Confronting him, Kevin is stabbed and bleeds to death. A run-in with Acherton(Michael Kenneth Williams) is less accidental when Terry, not fully in control of his actions, pushes him in front of a train. With a heavy conscience, he contacts Detective Van Doren(Brian Cox, who is excellent) who has an open case Terry might be interested in. Even with a good cast, "Tell-Tale" is a near miss, coming up just short of its target. Much of that has to do with trying to transform Edgar Allan Poe's short story into an unoriginal and predictable(after the first death, the movie loses any mystery it might have had) revenge flick with some unnecessary sadism thrown in. And even if I liked revenge stories, I'd still have a problem with the cold-blooded way some of the characters act in response to the classical ethical dilemma presented. There is a nice kicker but a lack of logic makes it a tough road getting there(not counting the supernatural elements which are fine). On the plus side, Providence is photographed well, even while forgetting that it does not have a subway.
½
Three words summed this one up...this was CRAZY! Hahahahaha! Can you imagine the former donor's heart sending him on a rampage in getting even with everyone that was responsible for the donor's demise. Totally and brutally insane...check it out!
Fascade Fiveoneeight
Super Reviewer
A loosely based modern update to Poe's Tell-Tale Heart. This movie is more thriller than horror, and the storyline unfolds at a nice pace throughout the movie. In this retelling, the heartbeats are not coming from the head of our agonist, out of guilt, but by his own recently acquired donor heart. The ambiance and gothic style architecture of some of the buildings effectively sets the tone of the story. Lucas does a great job as a good, everyday, kind of guy who struggles with the inner turmoil this transplant is causing him. In a role that could be way overacted in the wrong hands, Lucas' subtle approach allows you to really connect with his character. Oh yes, and there's a sort of twist at the end, which didn't surprise too much; but was a perfect ending to the film.
nefnie lee
Super Reviewer
Tell-Tale (Tell Tale) Quotes
There are no approved quotes yet for this movie.