Repo Men
(2010)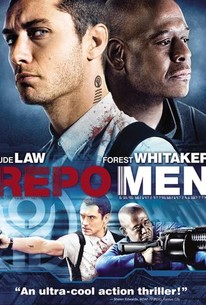 TOMATOMETER
AUDIENCE SCORE
Critic Consensus: Repo Men has an intriguing premise, as well as a likable pair of leads, but they're wasted on a rote screenplay, indifferent direction, and mind-numbing gore.
Movie Info
In the futuristic action-thriller "Repo Men," humans have extended and improved our lives through highly sophisticated and expensive mechanical organs created by a company called The Union. The dark side of these medical breakthroughs is that if you don't pay your bill, The Union sends its highly skilled repo men to take back its property -- with no concern for your comfort or survival. Remy is one of the best organ repo men in the business. But, when he suffers a cardiac failure on the job, he awakens to find himself fitted with the company's top-of-the-line heart-replacement -- as well as a hefty debt. When he can't make the payments, The Union sends its toughest enforcer, Remy's former partner Jake, to track him down.
News & Interviews for Repo Men
Critic Reviews for Repo Men
Audience Reviews for Repo Men
Despite its interesting premise, this film is insipid and not very original, and it goes on limping between serious action and awkward satire. What makes it a bit better, though, is its last twenty minutes, with a terrific, badass ending that will leave you thrilled and chuckling at the same time.
Carlos Magalhães
Super Reviewer
½
Working for a mysterious, nefarious organization, two men collect organs on lease in the near future. Released in 2010, after the latest financial meltdown ravaged the U.S. economy, Repo Men is a satire clearly aimed at American big business, equating their greedy foreclosures with stealing people's lifeblood. It's clever, and the novel on which this film is based probably works better, but as a film, the exposition is entirely too long. Also, the characters degrade into gangster film cliches. Remy has the disapproving wife and innocent child, and he eventually grows a conscience about his work (but seems to have no problem with the blood-letting of his former co-workers), and Jake is as gung-ho as ever. We've seen these characters in many genres, and the concept doesn't do enough to set them apart. Other reviewers have revealed that there's a twist ending, so I'm able to say that I liked it without giving it away. Overall, there's a lot to like about the concept and the story here, but the characters remain types, not unique or fleshed-out people.
Jim Hunter
Super Reviewer
The RZA was pretty cool...I guess. The acting by Jude Law and Forrest Whitaker can't stop the terrible mess this film becomes in its 2nd half. The ending is like Brazil, a deus machina, but fails flat. Overall, the only outstanding positive part would be the gore and action which shows that you don't mess with the organ business.
Repo Men Quotes
| | |
| --- | --- |
| Remy: | Who do you think he's gonna send after me? |
| Jake: | Maybe me. |
| | |
| --- | --- |
| Remy: | At the end, a job is not just a job, is who you are, and if wanna change who you are, you have to change what you do... |
| | |
| --- | --- |
| Remy: | He'll sign it. Everybody signs it. |
| | |
| --- | --- |
| Frank: | You owe it to your family. You owe it to yourself. |