La MISSION
(2010)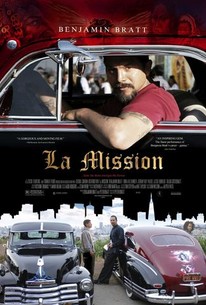 Movie Info
A reformed ex-convict and lowrider car aficionado kicks his beloved son out of the house after discovering that the boy has been living a secret life in Sundance Film Festival veteran Peter Bratt's heartfelt family drama. Che (Benjamin Bratt) is out of prison and on the straight and narrow. Still, every day is a struggle as he battles alcoholism and drives a bus in order to support his family. When the workday is done, Che and his friends, the "Mission Boyz," pass the time by restoring junked cars to mint condition. Feared by his peers yet deeply respected as the toughest Chicano on the block, Che is the kind of guy whose entire existence is defined by his macho reputation. There's no one in the world that Che loves more than his adolescent son, Jesse (Jeremy Ray Valdez), but both father and son are about to discover that love isn't exactly unconditional. Upon discovering that Jesse has been living a secret life, Che flies into a violent rage, assaulting the boy and kicking him out onto the street. Meanwhile, Che's attractive and headstrong neighbor Lena (Erika Alexander) challenges the ultra-macho gearhead to step back for a minute and take stock of the life he thought he had. ~ Jason Buchanan, Rovi
Critic Reviews for La MISSION
Audience Reviews for La MISSION
In "La Mission," Che Rivera(Benjamin Bratt, who is very good) works as a bus driver in San Francisco. In his spare time, he fixes up custom cars that take up space on a communal driveway, much to the consternation and complaints of his neighbor Lena(Erika Alexander). His latest is a special job for his son Jes(Jeremy Ray Valdez) for graduating high school before he moves away to college in Los Angeles. What Che doesn't know is that his son is gay and has a boyfriend, Jordan(Max Rosenak). Even while it might be more concerned with delivering a message of acceptance(which fits in well with a lot of Che's friends watching Oprah) and non-violence(especially important in this day and age) than in telling a compelling story, "La Mission" also manages to be an introspective look at a part of San Francisco that is often ignored and is possibly in danger from gentrification. Along these same lines, the movie suffers from a slack pace('Low and slow' might be fine for an evening drive but it's not the way to go if you want to get anywhere.). And while sporadicly cliched, it still manages to surprise with occasional bouts of complexity. While it is certainly fine to respect traditions, it is inferred that Che might be spending too much time in the past, which is implied by the older music on the soundtrack and the cool cars, and is therefore less open minded than he should be.(In fact, Jes has grown out of his previous interest in the cars.) At the same time, he has successfully escaped his troubled past and built a new life.
Being gay is tough on the kid and many movies show that. It was refreshing to see a "coming out" story that fallows the parent(s) dealing with the news. I came out in the south and it was god to see a West coast Latino "coming out" and see they are not very different. "Coming out" is a struggle for most and thank God some do have an easier experience, but the movie reminds us most have it difficult more so than easy. It is hard to remain true to yourself when someone you loves sees life completely differently.
Thomas Johnston
Super Reviewer
½
Melodrama drenched in Latin American culture with a made for tv feel. The characters are involved. There just isn't enough dialogue to go on.
Movee Critic
Super Reviewer
La MISSION Quotes
There are no approved quotes yet for this movie.